European Tour Tests Shot Clock This Week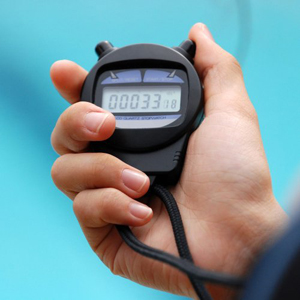 Many eyes this week are focused on the Euro Tour's Shot Clock Masters. The forward-thinking tour is testing out how the players respond (and bitch) about the format to speed along play.
Here's what you need to know.
1. Make it quick: The Shot Clock Masters makes history this week as the first tournament in professional golf to use a shot clock on every shot as part of the European Tour's bid to combat slow play. The official European Tour shot time allowances will be in force: a 50 second allowance for a "first to play approach shot (including a par three tee shot), chip or putt" and a 40-second allowance for a "tee shot on a par four or par five, or second or third to play approach shot, chip or putt".
2. No exceptions? Every player will be timed on every shot, and on each occasion that a player fails to hit his shot within the time limits, a one-shot penalty will be added to his score for that hole.  However, each player can call for a "time-extension" up to twice in any one round, allowing a further 40 seconds over and above the above allowances to play the shot in question.
3. The technology: A digital clock mounted on a buggy will travel with each group and will be accompanied by a referee who will be responsible for operating the clock and determining when to start the clock for each shot. The clock will be controlled by an iPad using a bespoke app.
Adam Schupak caught up with Tour commish Keith Pelley on how its going and the inevitable pushback from players.
"There's always been policies put in place to speed up play, but nothing ever has been enforced," PGA Tour veteran Rory Sabbatini said.
"I'm looking forward to seeing how this much anticipated concept will work out," European Ryder Cup captain Thomas Bjorn tweeted on Monday. "Slow play is a disease in our sport and this format should help." 
"If I've heard it once, I've heard it a thousand times," Pelley said. "Players have two speeds: when the referees show up and when they don't."
One of the best solutions I've heard is to relegate the slow pokes to the last groups on Thursday and Friday, where they won't cause as big of a traffic jam. Again, shame and a potential disadvantage of playing on spiked-up greens and in windier conditions would incentivize speedier rounds.
"If every once in a while, someone got penalized strokes, then everybody would start saying, Holy cow, this could cost me a lot of money," Davis Love III said. "Penalty strokes are probably the answer. But it's kind of like the flat tax. It would be simple, but it ain't going to happen."
If you disagree, just endure the maddening pre-shot routine of Patrick Cantlay.
Pre-shot routine:

Look
Walk up
Look
Regrip
Waggle
Look
Waggle
Look
Waggle
Look
Waggle
Waggle
Look
Waggle
Look
Waggle
Look
Waggle
Look
Waggle
Look
Waggle
Look
Waggle
Look
Waggle
Hit pic.twitter.com/nDRn6Wig20

— Jamie Kennedy (@jamierkennedy) February 18, 2018
Enough already!
By the way, the opening group played in a respectable 4 hours, 8 minutes.