Gambling On Golfers: A Great Or Hurtful Combo?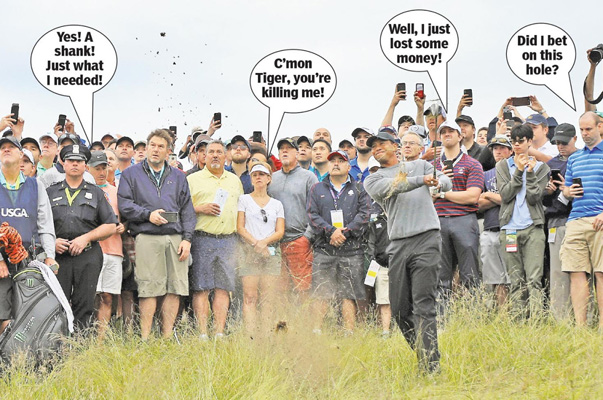 NY Post Illustration
Gambling and golf go together like peanut butter and jelly. It's a time-honored activity to wager when playing against your buddies. But what happens when the PGA Tour encourages fans to place bets on or against the Tour pros? As recently as 2017, the PGA Tour was steadfast against gambling, yet have now embraced it as a cash cow.
The NYPost's Phil Mushnick weaves a cautionary tale that life at Tour events could get very contentious.
The PGA, inevitably, wants its cut of the dough golf fans gamble and lose. It, too, has partnered with several companies that both provides gambling info and instructions on how to bet.
As PGA VP Norb Gambuzza proudly declared, "Golf is open for the business of betting."
And don't forget to lose early and often, to best pad the PGA's cut.
Gambling on golf — more specifically on golfers — creates disturbing sooner-or-later scenarios. Even more gamblers, who already could bet via "fantasy sites," can now stand just a few feet from those they bet on — or more significantly, bet against. On-course, incivility, already on the rise with the PGA's reliance on alcohol sales, only can grow worse.
Just think of the patron, drunk or sober, who can win 10 grand if this guy misses a 6-footer on 18.
At last year's Masters, Jason Day, among the betting favorites, withdrew during the first round after reinjuring his back. The direct vitriol he then received from "fans" on social media left him staggered. Think any of those hateful missives were from gamblers?
That said, the famous 16th par-3 stadium hole at the Waste Management Phoenix Open is rife with drunken wagers but hasn't escalated to a DEFCON 1 level. And, the Open Championship has allowed betting seemingly forever and I can't remember it ever leading to a catastrophic incident.
In this era of Idiocracy, one can imagine that some high-strung obliviot fans will overstep proper decorum. Yet, I'm open to the idea for additional fan participation until we find out golf wagerers can't control themselves.
.