Golf Course Involved With Dispute, Shooting, Neighborhood Fire And Five Dead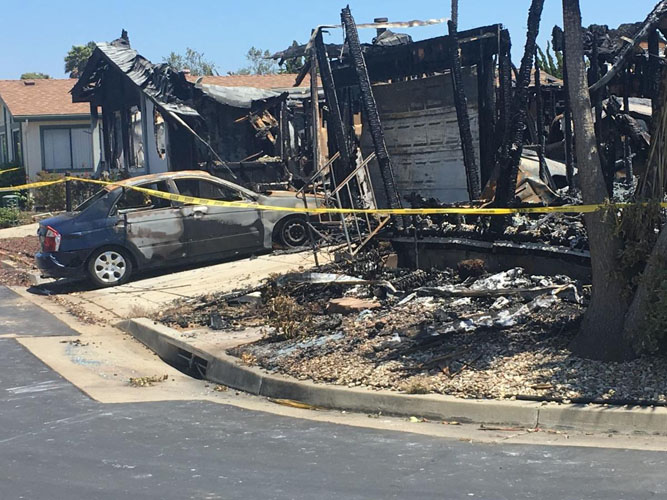 A golf course typically isn't linked to the kind of mayhem we see on TV or the movies. But this story is almost stranger than fiction.
The pitch and putt course of the Casa Grande Estates in Santa Maria, California was the initial setting for a dispute that escalated quickly. The Santa Maria Times' Mike Hodgson has the sordid details.
Police also haven't released a motive, but several park residents said Friday the two men got into an argument with a third man on the park's pitch-and-putt golf course shortly before the shooting.
Police responding to a report of shots fired at 519 W. Taylor St. Friday around 11:30 a.m. found a dead man inside the Casa Grande clubhouse and another outside on the grass not far away, Police Chief Phil Hansen said after the incident.
After the shooting, the suspect apparently returned to his mobile home, which moments later went up in flames following a small explosion, Hansen said.
The fire spread to the mobile home next door, destroying it as well, and damaged two homes behind those before the flames were extinguished by Santa Maria Fire Department crews, who had to wait to be escorted in by armed police.
The names of two men who were shot and killed Friday at Casa Grande Mobile Estates were released Saturday, and a fifth body was found in the rubble of the suspect's burned-out mobile home, according to Santa Maria Police officials. https://t.co/gLkmmd8bB8

— Santa Maria Times (@SantaMariaTimes) June 23, 2019

"Next thing I know, all hell breaks loose —smoke and fire, cops with guns, glass breaking and then all these 'pop-pop-pops.' It was a scary thing, I'll tell you what. I just stayed inside."