Harold Varner III: 'So You Wanna Grow Golf?'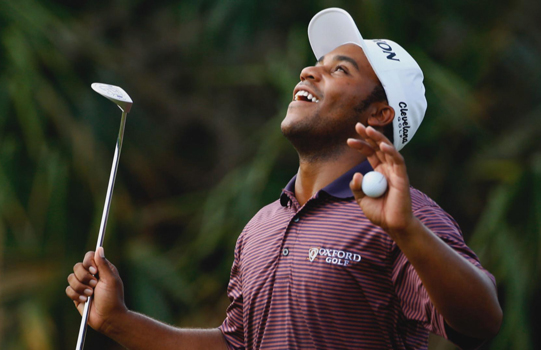 Harold Varner III is one of those refreshing PGA Tour players who always looks happy and grateful to make a living playing golf. He wrote an article for The Players' Tribune on his thoughts how to grow the game–and constant attention for being the rare African American to earn full time Tour status.
You hear it thrown around a lot: We all want to grow the game. But are we really committed to doing that?
Now, you may be thinking these summer playing privileges cost some crazy amount of money — that only rich kids would be able to do something like this. I mean, it's a good enough deal to think that. But this program wasn't really expensive at all: For only $100, I was able to purchase this junior membership to Gastonia.
It completely subverted the argument that you need to be rich to play this sport. It made playing golf extremely affordable.
That meant the world to my family. I didn't know it at the time, but this was an incredible deal, not only for what it did for me then, but also what it's still doing for me now. Without Gastonia, I would've never learned to play golf, would've never earned a scholarship to East Carolina University, would've never made my way onto the PGA Tour, would've never won in Australia last December and would've never been in a position to help bring more kids into the game.
I'm also realistic about my views, which is why I want to acknowledge the double-edged sword here. The primary reason people know me is that I'm black. I'm not afraid to say that. Maybe I'll get a bit more media coverage or be seen as the guy who can change the way the Tour is perceived. Being black has helped me, no doubt.
On the other hand, from when I first started playing golf at a high level, I was seen as the good black golfer — not just a good golfer. Even though my primary goal is to be the best golfer on the PGA Tour, and even though I have the same goals as any of the top players, I'm often labeled as that guy. You know … the black guy who isn't Tiger. Trust me, I hear it.
I noticed real quick (after winning the Australian PGA Championship) that the tone in the Australian media was different from anything I had ever encountered in America. They saw me as the goofy dude who worked his ass off to win one of their most prestigious tournaments … not someone who could be used to create a race discussion. I know Australia has its own complicated racial history, but the disparity was clear to me.
Back in the States, every damn article seemed to whittle me down to that old label: The black golfer. I read those stories and thought, These people do know I'm like every other Tour player out here, right? What's my skin color got to do with any of it?
We need to give kids the same chance I had. If I continue to play well and make a name for myself, hopefully I can make inroads in creating a program for kids similar to the one I participated in at Gastonia. That's my dream. Because in my mind, being a golfer has nothing to do with race and everything to do with working on the things you need to be a top player. 
So with the WGC-Bridgestone being one of the most diverse fields in all of golf, I think it's a good time to remind everyone that growing the game isn't such a difficult thing to do. I'm proof that with a good junior system, we can see all different types of golfers out here.