How Mike Whan Looks To Creatively Keep Some LPGA Events Afloat This Year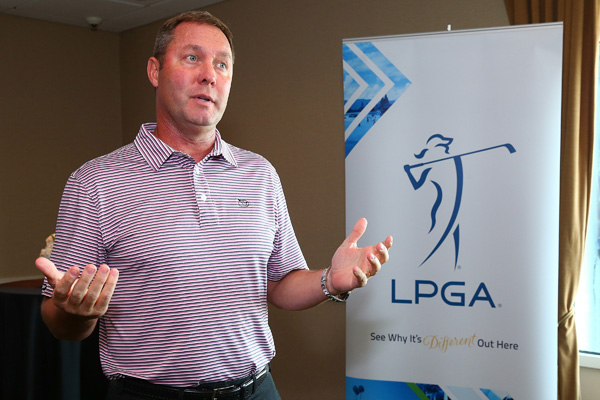 Mike Whan appears to be a great leader. Honest, direct and compassionate. The LPGA commish has proven to be a prudent figurehead navigating these crazy Covid-19 waters.
Last week he said, "I feel fairly confident that we could probably play in Phoenix, maybe we could even play Carlsbad, play without fans and keep everybody else out … but can I live with it if I'm wrong? If I'm wrong, I regret that the rest of my life. "If this is a decision that's wrong the other way, we should have played, I feel terrible about it, but I can live with that. This is a decision that I may not like but I don't think it's one I'll regret."
However, instead of turtling, Whan is contemplating outside-the-box ideas to minimize the economic damage as GolfChannel's Randall Mell reports.
LPGA commissioner Mike Whan is studying the possibility of some creative rescheduling.
Like doubling up postponed events.
Should extreme measures be required to deliver what is being lost with the COVID-19 threat growing, Whan is exploring some out-of-the-box thinking.
Like a kind of super event.
Like a two-for-one, big-purse tournament.
"Could you have two sponsors come together in one event, so instead of playing each event for $1.5 million, you're playing one event for $2.8 million?" Whan said to GolfChannel.com. "Yeah, I think you could."
Whan did not lay out any specifically planned pairing of sponsors, but, conceivably, the postponed Volvik Founders Cup could be merged with an existing event, to solve problems created by today's extraordinary circumstances.
Two events could be combined to deliver two title sponsors one special event.
"I don't think you could expect to see a heavy dose of that, but I think you can expect to see at least one," Whan said. "This is going to be the year of an asterisk. There's no getting around that. To say we've always done something a certain way is no longer an acceptable answer.
"Everything is on the table."
Good for him. As the saying goes, "A leader is someone who holds her- or himself accountable for finding the potential in people and processes."