Is John Daly Merely A Spectacle These Days?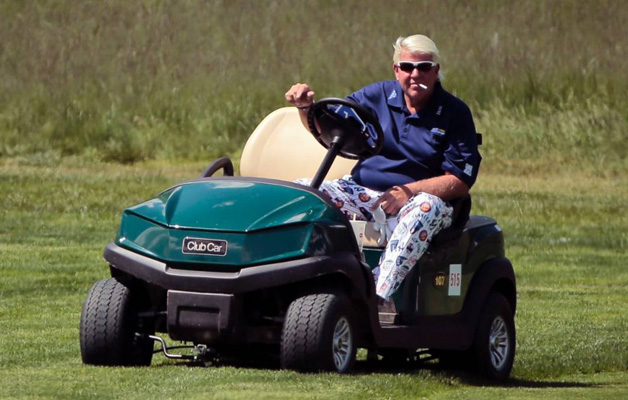 John Daly is quite possibly the 2nd most popular player in golf. Even with all his missteps, Long John is the "common man's" Pied Piper while others dismiss him as an incredibly wasted talent. So, when he was awarded use of a cart at the PGA Championship, the fans and detractors weighed in equally.
Personally, I was a big fan of John. I loved his golf game–his off-course antics not so much. And, I wouldn't have granted the cart to assist with Daly's wobbly knee. At the risk of being cliched, Tiger Woods said, "As far as J.D. taking a cart? I walked with a broken leg, so …"
Here's John's take via GolfWeek's Adam Woodard.
"It's very awkward (to use a cart) and it's almost to a point where it's embarrassing," he added, noting that he'd prefer to walk.
As as a past champion, Daly said he feels "obligated" to keep playing, if able.
"I don't want to ride all the time, but if I don't, I won't be able to finish. I enjoy playing and I'm still competitive. It's not really ego, I feel committed."
Another question is what does Daly symbolize these days? A loveably flawed hero or just a sad, tortured, self-imploding tragedy? Golf.com's Charlotte Wilder takes the latter stance.
Daly's white pants are patterned with the New York Yankees' logo. He gets out of the cart and makes his way to the tee without much trouble.
"Johnny you gotta sell it, limp a little," says one of the many guys behind me.
No one's here to watch him golf; he doesn't have a shot at winning. We're here to watch him be a spectacle.
"Did you see him walk to his cart?," one guy says to his friend, as they turn to follow the Daly group. "Highlight of the event so far."
The sport he plays has, to some extent, enabled this. Daly has consistently used golf to wash away his sins. He admitted as much in 2017 in an interview with TMZ Sports following Woods' arrest for a DUI when he sent Woods a message: "Get back on the golf course, man," he said. "This stuff will pass. It always does. Hey, it proves he's human, he's one of us, baby. I love him."
After a +5 Thursday, Daly has no chance of making the cut. But as long as he still attracts fans, someone will grant whatever waiver he requests to fill a gallery.