Is Jordan Spieth Slowly Becoming The Next David Duval?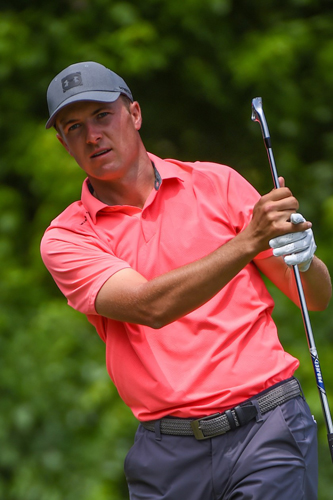 Dallas darling Jordan Spieth faces a fairly significant season ahead. He hasn't won since the 2017 British Open, is 181st in fairways hit and his Strokes Gained: Off the tee fell from 50th to 176th last year. Only his remarkable putting has kept his game from completely cratering. He's turned into a course rabbit as well; ranking 11th and 9th in Thursday/Friday round scoring, but an alarming 170th and 187th in weekend scorecards.
Morningread.com's John Hawkins makes a compelling case that Spieth is slowly morphing into the once dominating David Duval before he fell into relative playing oblivion.
Is Jordan Spieth slowly becoming the next David Duval?
Call me a masochist; call the mere suggestion of such a comparison to be outrageously errant, but there are similarities between the two downward spirals. Duval won 13 times from late 1997 to the summer of 2001, racking up 11 of those victories in an 18-month span that carried him to the top spot of the OWGR in 1999. Woods once confided to me that Duval was the player whom he feared most inside the ropes. Duval could do it all, and for the better part of four years, he did it all on a regular basis.
His final victory came at the '01 British Open. Within a year of that lone major title, Duval was struggling mightily, largely because he couldn't drive the ball accurately enough to take advantage of his other skills. He tumbled from 26th in fairways hit (1999) to 176th in 2002, then made just four cuts in 20 starts the following season. After a seven-month hiatus at the start of 2004, Duval returned to action at the U.S. Open. He shot 83-82.
Spieth ranks 295th in driving accuracy through three starts in 2019-20, which is both a tiny sample size and the continuation of a career-compromising trend. He finished 181st in fairways hit last season, when he missed as many cuts (four) as he posted top 10s for the second consecutive year. We're talking about a guy who was 50th in strokes gained off the tee in 2018, then fell to 176th, meaning there is absolutely no mystery as to the root of his troubles.
Much like Duval, Spieth is playing a far more difficult golf course than almost everybody else in the field, and he's been doing it on a weekly basis for a while. If he wasn't one of the greatest putters ever, which is hardly an exaggeration, there's no telling how bad things might have gotten by now. Spieth's ability to hole putts and salvage terrible ball-striking rounds clearly has become an extension of his fierce determination.