Jack Nicklaus' Letter To His Younger Self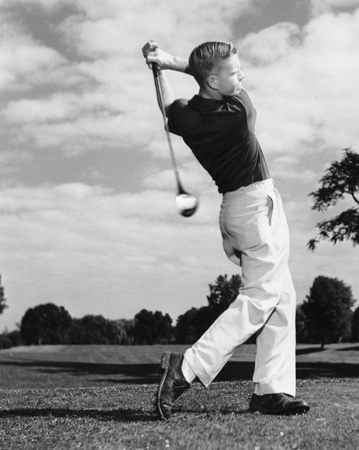 Jack Nicklaus. The iconic name is forever linked to golf. 18 majors. Rightfully heralded as one of the very best–if not the best.
I'm a fan of a celebrity's "Letter To My Younger Self" as they offer sage, mature advice to themselves at an important life-changing precocious age. Singer Brad Paisley's "If I Could Write A Letter to Me" is a nice listen and reminder of how we've survived those confusing early years.
Anyway, Nicklaus writes a terrific piece for The Players' Tribune outlining important milestones as he talks to his 10-year-old self. He's especially complimentary to rival and friend Arnold Palmer. 
On his first swings…Let your feet feel free. Take the club back, but take it back with power — let your right elbow go loose, channel some of that baseball strength you've built up — pause for a split second at the top, and then just unload. 
It's going to feel great. It's going to feel natural. It's going to feel right.
On first witnessing Palmer (who was 25 at the time):
You'll see a figure on the range. He's around your height, but he's just … bigger. His forearms look like tree branches, his legs like stumps. He'll be pinging iron after iron. Stingers. Rockets. 
The rain will start coming down sideways. He won't even look up. 
Go sit. Watch him. Take it in.
"Oh, that guy on the range?" they'll say.
"That's our defending champion, Arnold Palmer."
He'll beat you that week. The same way he beat an entire field of the country's best at the U.S Amateur a few months before. He's a spectacular player. A gentleman. You'll cross paths a few more times here and there over the next couple of years. Every time, his swing will blow you away. It won't be for a few more years until you really get a chance to measure up to him.
So, Jack, when you get out there today with Dad, try and remember some of this. Don't forget to let that elbow go loose. Don't forget to give Barbara a call. Don't forget to go to dinner with Arnie.
And most of all, don't forgive to give back.
The game will give you so much. But what you give in return, that's how you want to be remembered.
Trust me.
It's worthy of your time.