Jason Day Dishes On Tiger Friendship And Feeling He's Underachieved So Far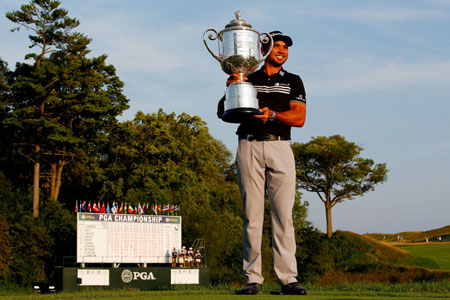 Jason Day is one of the world's best golfers. A major, a #1 world ranking and 11 total Tour wins are noteworthy. Yet as Golf Digest's Brian Wacker reports, Day still feels like an underachiever. It's a worthy read.
HOW MANY PLAYERS TODAY ARE PLAYING FOR HISTORY? ARE YOU ONE OF THEM?
I'm definitely one of those guys. There are probably five to 10 right now. You can look at the top of the world ranking and pretty much figure out most of them. The rest? They're trying to make a good living, enjoy life and go on about their way. I don't want to put a number on majors or victories or goals, because sometimes you get to a point where you're just struggling to get to that number. But let's say you have 20 to 30 wins and multiple major championships. Not a lot of guys have done that. I'd also like to win the [modern] career Grand Slam. Only five guys have [Sarazen, Hogan, Player, Nicklaus and Woods]. That, plus being No. 1 in the world and 20 to 30 wins, yeah, that's a pretty phenomenal career.
HAVING SAID THAT, DO YOU CARE HOW YOUR CAREER WILL BE EVALUATED 25 OR 100 YEARS FROM NOW?
No one's gonna remember. They remember Jack, Tiger, Arnie, Gary, but that's the 1 percent of the 1 percent. The one-name club. I know how hard I work, and I'm trying to win as many tournaments and majors as I can for me and my team, but I know one day I'm gonna be gone and forgotten. I was just talking to someone the other day who played in the Greg Norman Junior Masters. I know Greg Norman and what he's done, but kids back home go, "Who's Greg Norman?" Everyone gets to a point where you're forgotten, unless you're in that one-name club.
WOULD YOU DESCRIBE YOURSELF AS INJURY-PRONE OR ACCIDENT-PRONE? YOU SEEM TO SUFFER INJURIES OR ILLNESSES MORE THAN MOST PEOPLE.
Really? No, I don't think so. But I don't sleep well. I average about five hours a night. Two days ago, I slept for 2½ hours. I'm always up. I can't sleep. When you don't sleep, you don't recover, and if you don't recover, your immune system is down, and if your immune system is down, more things can happen.
AT THIS POINT IN YOUR CAREER, HAVE YOU OVERACHIEVED OR UNDERACHIEVED?
Underachieved. I feel like my game is set up to win more majors than I have and more tournaments than I have. The only thing holding me back is myself. Sometimes it's a desire thing. Look at Tiger—what made him so dominant for 13 years? It was the same thing for Michael Phelps, who didn't miss a day of training for five straight years. What makes that person do that? Deep down, there's a level of motivation that makes this person work harder than anyone else. And to do it for that long and that many years is incomprehensible.
YOU'VE BECOME PRETTY GOOD FRIENDS WITH TIGER. HOW'D THAT COME ABOUT?
His caddie, Joe LaCava, said to my caddie at the time, Colin Swatton—this is back in 2013—"Why don't you have Jason text Tiger?" We'd met before, but I didn't have Tiger's number, so Joey gave it to me, and I think I was the one who texted first. I can't remember exactly what it was, but it was something with some swear words in it, because that's how we talk to each other. I'd known him well enough I guess at that point that we could give it to each other.
We still text and talk all the time, and I've been to his house a few times, but he's still very private and introverted. We talk about personal stuff, but it never gets too personal. It's mostly just how's the family, that kind of thing. We talk more golf, because he's a golf nerd, and I'm a bit of a golf nerd, too.
IF THE RULING BODIES OR AUGUSTA NATIONAL WERE TO INSTITUTE A LIMITED-FLIGHT GOLF BALL FOR PROFESSIONAL EVENTS, WOULD THAT BE GOOD OR BAD FOR THE GAME?
First off, people would still play the Masters. But if they did that, then they better shorten the tees again. If we have limited-flight balls, we're going to have 4-irons into No. 7 and things like that. But do I want the ball to go shorter? No. Why? Isn't it fun watching Dustin Johnson crush a drive over a lake 300 yards away? No one wants to see someone plod it down the right and not take it on. That's boring.
If you push trying to rein it in too far, then people will stop watching golf. People want to see risk.
The problem is the architects—some of them, anyway—decided that because the ball is going forever, they need to make courses longer to make them harder. No, you don't. Just be a better architect.
IS THERE EMBARRASSMENT IN THOSE PRESIDENTS CUP DEFEATS?
It's beyond that—it's become normal. You get whooped so many times, it just becomes the norm. But I think there's a question of whether the guys even care at this point. Some do, some don't. You get whooped every time, and you start to ask, "Why are we even turning up for this?"