Jason Day Displays "New Swagger" With Stevie Williams On The Bag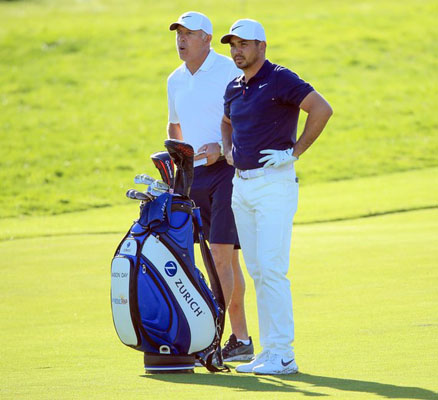 Jason Day was frustrated with his 2019 season so he enlisted the help of caddie extraordinaire Stevie Williams for this week's U.S. Open. Williams helped Adam Scott earn his first major win at the 2013 Masters. He was on 13 of the 15 majors Tiger Woods won. Meaning, he has one helluva resume.
What does Day expect this week? To be a tougher foe. Remember his wife Ellie telling him to "suck it up" at Augusta?
GolfWorld's Brian Wacker relays the info.
"I am very disappointed with how this year's progressed," Day said. "I didn't play well, and I need to improve that. I think Steve will take me to that next level, and I'm hoping that's the case."
"It's nice to have someone with experience, that has unbelievable experience in major championships, and also, on top of it, have the experience of that winning pedigree with regards to the players that he's been with," said Day, who added he'd been contemplating a change for the last couple of months. "It was a little bit intimidating to have him on the bag, to be honest. He's had a lot of great ball-strikers that he's worked for. I was excited and intimidated in the same breath."
"I saw an enthused, reinvigorated and motivated Jason," Colin Swatton (Day's ex-caddie and current swing coach) said of the two-day practice session with Williams on Day's bag over the weekend at Pebble Beach. "Everything I'm hearing is that he's walking around with more swagger and a different demeanor."
"I know that his drive and his will to be successful is very, very high," Day said of Williams. "He's kind of a no-BS kind of guy. He'll tell you straight. He told me that, 'If you're not working hard enough, I'm gone.'"
Should make for an interesting week.