Jason Dufner Accomplishes A Feat Not Done On Tour Since 1989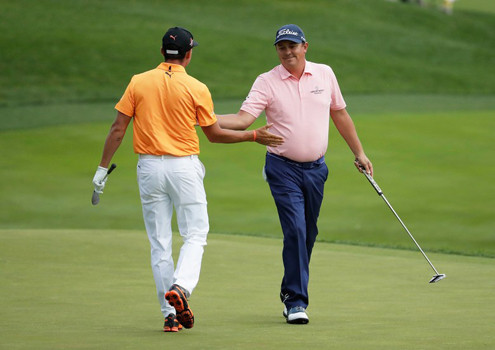 Jason Dufner is a surprising fan fav because he displays practically zero emotion on the course. There's no tell on his face upon hitting a good or deplorable shot. Such was the case during his pair of 65s Thursday and Friday at the Memorial Invitational (he broke the scoring records of Scott Hoch and Rickie Fowler by a shot) before ballooning to a 77 on Saturday to go from 5 shots up to 4 down.
Sunday, Duf found his grit and groove to win by two and become the first golfer to win a Tour event shooting a 77 since Nick Faldo winning the '89 Masters.
Last player to shoot 77 or worse in 3rd round of #PGATour event and win: Nick Faldo, 1989 Masters. Dufner (77 Saturday) leads.

— Justin Ray (@JustinRayGC) June 4, 2017

Only Kenny Knox shot a higher third-round score in a non-major and won, carding an 80 in the 1986 Honda Classic. Dufner also won despite having a negative Strokes Gained: Putting during the event. 
"You know, a lot of times for me the ball-striking is what I have to do well, and that's kind of what I did on the back nine," Dufner said, self-diagnosing. "I hit three or four shots that I almost couldn't miss them, even though I tried on 17. Then to make par on 18 was really special. Obviously, knowing that I need to make bogey at worst to have a chance, but to make a 35-footer on the last hole, I did that a couple of years ago in Dallas to win, too."
"I hope it's the start of some big things for this year and going forward. I've had a pretty good year this year," said Dufner, who missed the cut in his previous start but had four top-13 finishes in his last seven starts. "I've been really consistent, a lot of top-25s and a lot of made cuts. I know that doesn't sound flashy and great. But I felt like I played pretty well every week this year. It was a matter of time at some point some things were going to happen for me to be able to win."