John Daly Still Laments Being Left Off Ryder Cup Squads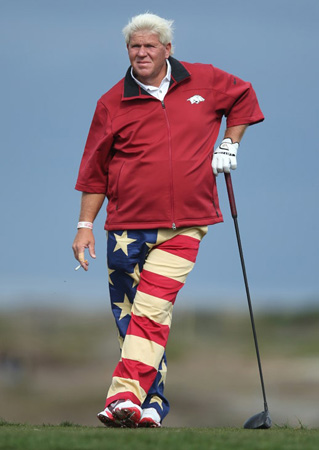 John Daly is still a compelling study of outrageous talent and equal self-destructing behavior. The two-time major winner is brutally honest with his questionable life decisions. Daly recently explained his sadness and understanding why he was left off the 1991 and 2004 Ryder Cup squads as heard on Golf.com.
"Probably attitude," Daly said. "Probably some of the things that I did off the course. And some of the things that I didn't do that I was accused of doing, and there was a lot that I did that I really did."
The decision to keep him off the team was especially head scratching in 1991, when he was left off after winning the PGA Championship — the biggest event held by the PGA of America, which runs the Ryder Cup. Daly pointed to that year and 2004 as the most disappointing of his snubs.
"Those are the two years that I know I really, really could've helped the U.S.," Daly said. "I was playing probably the best golf of my life those two years."
"It hurts a little bit," Daly continued. "But in the early 90s, some of the things I did probably didn't earn the respect from the players. I don't blame them."
In case you were wondering, the 1991 Captain's picks were Chip Beck (1-2-0) and Ray Floyd (2-2-0) while the 2004 picks were Jay Haas (1-2-1) and Stewart Cink (1-2-1). 
I still say he's one of golf's most popular golfers that I've witnessed along with Arnold Palmer and Tiger Woods and maybe the only one in his prime who could attract a similar gallery size to Woods.