Do Junior Golfers Need To Pick Up Their Pace?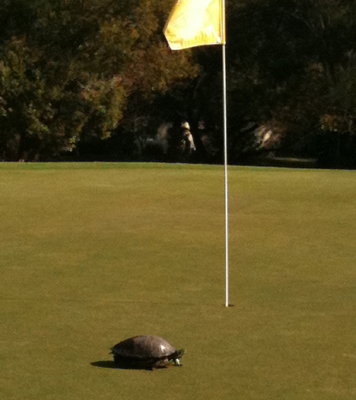 Ex-PGA of America president Ted Bishop writes that the slow play of junior golfers is reaching epidemic proportions. And that doesn't bode well for golf speeding up the game anytime soon.
Last month, my facility hosted an Indiana High School Athletic Association girls regional. The 18-hole pace of play for the final few groups was six hours and 45 minutes. As I patrolled the golf course, which was set up at 5,400 yards, I observed several blatant causes for the snail's pace that had set in.
Let me be clear: I am not picking only on the girls. The things I observed also would be true in any of the boys' events.
Pre-shot routines were excessive. Too many practice swings and other idiosyncrasies caused players to take too long to pull the trigger. Time spent on the greens was excruciating because many players waited to line up putts until it was their turn to play and then forced fellow competitors to suffer through meticulous pre-putt routines.
The use of push carts by many players added to the misery. Despite mild temperatures, players walked and stood beneath the umbrellas attached to their push carts. Between shots, many elected to rest on the attached seats. A push cart can't always take the shortest distance to the next shot because of foot bridges, hazards or the terrain. Retrieval of the push carts around the greens slowed things up because some players don't park their carts in strategic spots. As the day wore on, players walked to their balls at a much slower pace.          
The pace of play is way too slow. It has become golf's greatest double standard. If any of my adult public players were to approach a 4½-hour round, they would proclaim it to be a death march. 
So, why are we letting our junior golfers off the hook? And who's to blame?
Touring pros influence junior golfers. However, teaching pros have been the biggest contributors to slow play at the junior level. These kids with excessive pre-shot routines learned it from someone. Look no further than their instructors.
Bishop adds that plans are underway to speed play but doesn't offer any examples. Sounds like everyone else who complains but offers no solutions.