Justin Rose Doesn't Miss A Beat With New Clubs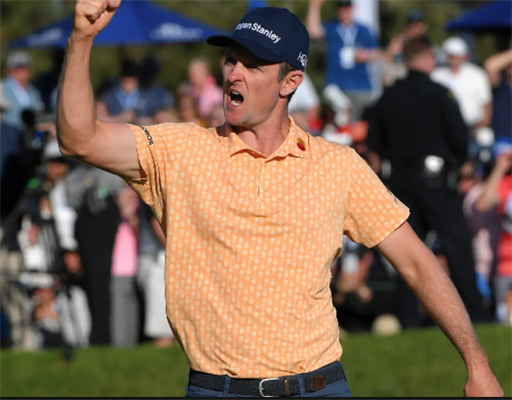 Justin Rose winning the Farmers Insurance Open had me eating my words when I openly wondered why on earth anyone playing so well would change their golf clubs–especially as the #1 ranked player.
But he's played quite well since the change so as usual, what the heck do I know. Rose beat Tiger Woods' scoring mark by two shots at Torrey Pines since the ramped up the difficulty on the South course. It was also Justin's 10th Tour win and I wouldn't bet against him at Augusta in April. His Farmers victory included 3 lost balls on Saturday. Not sure how many others overcame a similar challenge and won anyway.
Justin Rose is thriving in a young man's game.

At 38, he's the oldest player in the top 10 of the world ranking.

The other nine have an average age of 28.6.

— Sean Martin (@PGATOURSMartin) January 28, 2019
GolfWorld's John Strege files the report.
Though he reached the pinnacle without winning a major championship in recent years, he has produced a sustained run of exceptional golf that not only includes his victories here and in Turkey, but a T-2 in the Open Championship and a PGA Tour playoff run that included seconds at the BMW Championship and Dell Technologies Championship and a T-4 in the Tour Championship, allowing him to win the FedEx Cup title.
Still, it was important to Rose that he validate his standing with a victory. That it came on a difficult course with an aggregate score of 21-under-par 267 with Adam Scott, Jon Rahm and Rory McIlroy threatening to overtake him was a bonus.
"I think he performed like the No. 1 player should today," Scott said. "When he was shaky, he got it back together quickly, and then he didn't do anything wrong on the back. He closed well, I think."
Now, Rose controversially heads to the Saudi International in Saudi Arabia as he's among those who have accepted an appearance fee to play in the newest European Tour event in a country believed responsible for the death of Washington Post contributor Jamal Khashoggi. Rose isn't alone. Brooks Koepka, Dustin Johnson and Bryson DeChambeau—two, three and five in the World Ranking—will join him.
"I'm not a politician, I'm a pro golfer," he said emphatically.
"It's a European Tour event," Rose said. "Obviously I commit to playing my minimum on the European Tour, and I've always wanted to take a bit of time off in February. Those types of trips are very difficult to make if you're going to come straight back to the States and try and keep the momentum going. But I'm taking three weeks off after it, so to have an international trip fits in the schedule really well, and also it gets one of my European Tour events out of the way very, very early.
"There's other reasons to go play it. It's a good field, there's going to be a lot of World Ranking points to play for, by all accounts it's a good golf course, and it will be an experience to experience Saudi Arabia."