Justin Thomas Achieves Nearly All Goals By Securing $10 Mil And Player Of The Year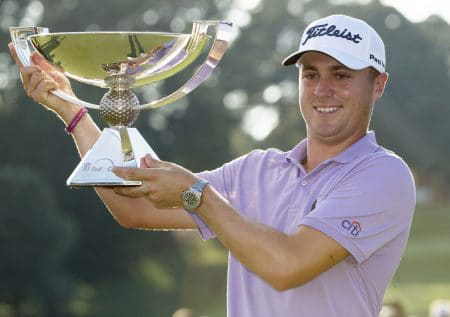 Justin Thomas is a goal oriented player. In fact, he wrote down his checklist before the current season.
Take notes, kids …

Set.
Your.
Goals. pic.twitter.com/qOYCd7k2xx

— PGA TOUR (@PGATOUR) September 25, 2017

Call me impressed.
However, due to the convoluted FedExCup Rubix's Cube point system, NBC's capable but beaten-down Cup pointologist Steve Sands constantly updated the various scenarios. Is it a buzz kill? Yeah, I guess. But at least the ever-changing points leader (and $10 million cash grab) was in doubt to nearly the end.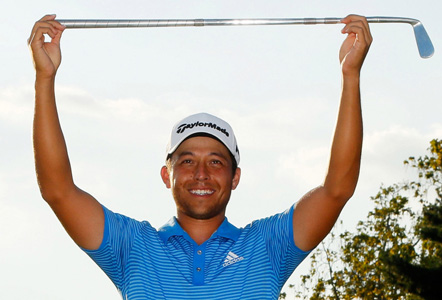 Tour rookie Xander Schauffele, starting in 26th place on Wednesday, became the first rookie to win the Tour Championship by squeaking in a 2-footer that circled ominously before dropping for the victory. He took home $3.5 million yesterday after making about $165,000 last year on the Web.com Tour.
I was embarrassed," he conceded later. "You don't want to win with a big swirl-around lip-in. I was sure that I'd missed it. When it did that little ring-around-the-rose and went in, I felt pretty fortunate."
There was also the possibility of two playoffs at the ready for both the Tour Championship and crowning the FedExCup champion. There were two other scenarios in which Spieth could have finished third or fourth and also won, which had he done so he would have been the first player since the inception of the FedEx Cup to have captured the end trophy without having won a Playoff event.
"I laughed when I saw that," Thomas said. "I thought honestly, this probably will happen and the golf world will completely blow up and lose its mind if Jordan and I were in a playoff for the FedEx Cup."
Let's let Morningread.com's Gary Van Sickle explain.
When Sunday afternoon at East Lake turned into one lead change after another – for the Tour Championship and the FedEx Cup – it added drama like no other golf event. At one point, the wacky possibility existed that we might see two playoffs, one between Thomas and Jordan Spieth, who were then projected to finish tied for the FedEx Cup title, and a second between Schauffele and Kevin Kisner, who were atop the Tour Championship leaderboard but separated by only a stroke.
"I saw that," Thomas said of his brief FedEx Cup tie with Spieth. "I think I laughed."
The PGA Tour probably would've hated that, but it would've been so uncool it would've been cool. Tour generals, you've finally got the FedEx Cup just where you want it. Don't change anything.
Sunday's finale showed just how breathlessly nerve-racking this unique display can be. You also should reconsider the all-but-done deal to bump it a month earlier on the schedule. If you thought it was steamy last week at East Lake, wait until you have to come back here in August. You know it's called Hot-lanta for a reason, right?
My view of golf has dramatically changed in less than two years. We started 2016 with what we were sure was a new Big Three: Spieth, Rory McIlroy and Jason Day. Two of those guys faded away like old soldiers, and one temporarily was replaced by Dustin Johnson.
Golfchannel's Rex Hoggard had this nutty change on Sunday.
If Koepka was the one who tempted us with a possible $10 million showdown between Spieth and Thomas, it was Kevin Kisner's birdie at the sixth to temporarily move into the lead by himself that propelled Spieth into the projected points hot seat. Forty-five minutes later, it was Tony Finau's birdie to close his week that prompted an equally dramatic flip, with Thomas moving into the top spot.
You get the idea.
A game that invests so much in individual accomplishments turns into a crowd-sourcing experiment at the circuit's big finish, and it was no surprise that it was the play of those on the periphery that had such an influence on the outcome.
Ridiculous.