Koepka Drive Hits Ryder Cup Spectator Causing Loss Of Sight In Eye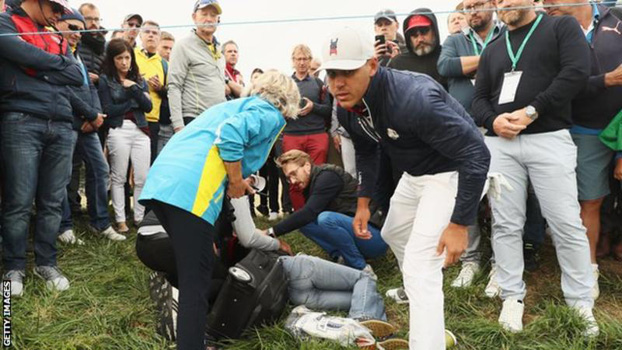 Brooks Koepka was involved in a horrible incident at the recent Ryder Cup. His drive struck a spectator that fractured Corine Remande's right eye socket and exploded her eyeball!!! She obviously lost sight in that eye and is contemplating legal action for not being warned about the wayward shot as BBC Sports reports.
"Doctors told me I had lost the use of that eye," she told AFP.
Mrs Remande said the reason for legal action was to help cover medical bills.
She added: "It happened so fast, I didn't feel any pain when I was hit.
"I didn't feel like the ball had struck my eye and then I felt the blood start to pour. The scan on Friday confirmed a fracture of the right eye-socket and an explosion of the eyeball."
Mrs Remande also criticised the Paris tournament organisers for "not making contact" after the incident to find out how she was. She also claims there was "no warning shout from the course official when the ball was heading towards the crowd".
A Ryder Cup spokesperson told the BBC: "It is distressing to hear that someone might suffer long-term consequences from a ball strike.
"We have been in communication with the family involved, starting with the immediate on-course treatment and thereafter to provide support, helping with the logistics of repatriation, including providing a transfer for the family from Paris to Lyon. We will continue to offer support for as long as necessary.
"Ball strikes are an occasional hazard for spectators but this kind of incident is extremely rare.
"We can confirm that 'fore' was shouted several times but also appreciate how hard it can be to know when and where every ball is struck if you are in the crowd.
Mrs Remande did praise three-time major winner Koepka, who went over to see how she was. She said she downplayed the incident so that the golfer "would stay concentrated".
"It looked like it hurt," the 28-year-old said afterwards.
He added: "It's hard to control a golf ball, especially for 300 yards, and a lot of times the fans are close to the fairway.
"You can yell 'fore' but it doesn't matter from 300 yards, you can't hear it."
— Brooks Koepka (@BKoepka) October 2, 2018
Tommy Fleetwood, a member of the victorious European team in France, admitted that he worries about the safety of his stepchildren when they stand alongside the fairway when watching him play.
"I sort of hate when my step-kids come and watch," Fleetwood said. "I say to Mo, who is 10, I say 'stand anywhere but where the ball could land, anywhere.'
"It can happen to anyone, and honestly, it actually surprising it happens less often than it does. You know, Brooks' shot wasn't that wide. I've seen the shot that it was. It's like ten yards left of the green. It's not that bad a shot, and it's really, really unlucky.
"I don't know what the answer is. Where they [Remande] were stood was the prime spot for watching on the green. I don't know what he [Koepka] can do, unless you give everyone a crash helmet before going on the golf course. It's just one of those things and golf is a bit of a dangerous sport in that sense."
I'm surprised it doesn't happen more often given how close the gallery gets to watch the action. Chalk it up to either the stellar ability of tour pros or that spectators are usually very fortunate not to suffer life-altering injuries.