Koepka Taps Into His Inner Nicklaus As To Why A Major Is Easier For Him To Win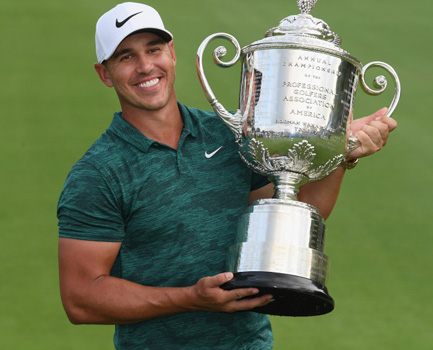 Brooks Koepka is quickly becoming one of my favorite players to follow. He hits it a mile, his irons are pure and he can seemingly scramble and putt from anywhere. And nothing seems to upset him. Those are necessary abilities to carve out an excellent major record.
Since 2015 U.S. Open at Chambers Bay, Koepka has a top-25 in 12 of 13 starts, three trophies and a runners-up at this years Masters. The man is a major terminator.
He also doesn't lack in self confidence while carrying a decent chip on his shoulder from believing the media doesn't give him his just due.
Anyway, Koepka tapped into his inner Jack Nicklaus yesterday to explain the equation as to why a major is easier to win than a regular tour event. Nicklaus once said "If I heard a player complain about the course, that was one less player I had to concern myself of winning.  I'd just hang around and good things tend to happen. I knew that if I kept the pressure on and didn't do anything stupid I would probably win."
GolfChannel's Will Gray transcribed Brooks' presser yesterday at Bethpage Black. It's difficult to argue with his reasoning–and enviable record.
"I think sometimes the majors are the easiest ones to win."
"There's 156 [players] in the field, so you figure at least 80 of them I'm just going to beat," Koepka said. "You figure about half of them won't play well from there, so you're down to about maybe 35. And then from 35, some of them just – pressure is going to get to them. It only leaves you with a few more, and you've just got to beat those guys."
"I don't see why you can't get to double digits," Koepka said, eyeing a total that has been reached by only three players in the history of the game. "I think one of the big things that I've learned over the last few years is you don't need to win it, you don't have to try to go win it. Just hang around. If you hang around, good things are going to happen."
We all know that strategy worked for The Golden Bear. And so far, pre-tay well for Mr. Koepka–who's also my pick this week to take the PGA.
Brooks Koepka might just earn himself a worthy nickname if he does hold the Wanamaker on Sunday.