Kostis And McCord Are Out At CBS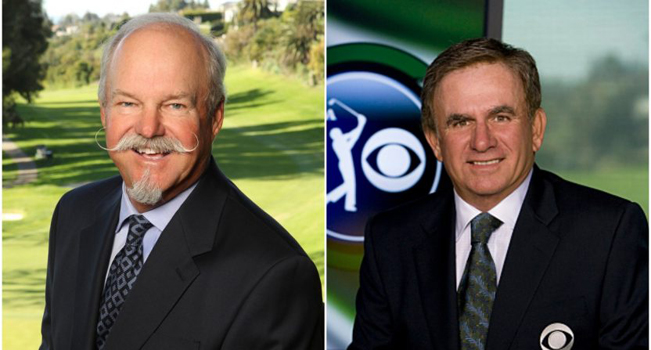 Peter Kostis and Gary McCord were surprisingly released from their long time CBS golf coverage. Some might say McCord's expiration date had passed a while back, but most seemed to enjoy Kostis' insight and slow-mo swing analysis. Yet, both contracts will not be renewed.
Then again, it looks like CBS is downsizing significantly as Chris Strouse of the Miami Times reports.
CBS Corporation is making buyout offers to hundreds of employees in cities across the nation including Miami, New Times has learned.
At least 20 highly paid longtime employees of WFOR, the CBS-owned-and-operated TV station in Doral, began receiving offers last week. Senior vice president and associate general counsel Andrew Siegel confirmed the buyouts are being offered at multiple CBS properties in other parts of the country. CBS Corporation owns not only CBS Network but also CBS Sports Network, Showtime Networks, and the publishing company Simon & Schuster.
If the photographers, producers, editors, engineers, and other veteran employees sign, they would be required to continue to work until June. Some employees have complained the nearly four-month mandatory wait to accept work elsewhere amounts to an unfair no-compete agreement that will prevent them from taking jobs that might be available elsewhere.
Back to the CBS broadcast twosome's exit via Sports Business Journal's John Ourand. Kostis (since 1992) and McCord (1986) were the longest tenured golf announcers at the Eye Network–other than Jim Nantz (1985). Bill Macatee isn't returning as well. So the network will need another lead talking head to fill in for Nantz when he takes time off.
Kostis said, "As I look to my future, it will most definitely include going back to my teaching roots, completely unfiltered, in some form or fashion (maybe a book) and I'm really excited about that! As well, there are numerous new opportunities for covering golf that are very interesting."

Kostis also emailed statement, which reads in full:
"It is hard to believe that it has been thirty years since the first time I walked a golf course with a microphone — at the 1989 Ryder Cup at The Belfry for USA Network. Things have certainly changed quite a bit, since USA only broadcasted the event – and gave me my first break – because NBC, CBS and ABC chose not to pay any rights fees to broadcast the Ryder Cup. It was an electric environment and from that moment, my life would never be the same. There were 15 years as the 18th hole analyst for USA and 29 years as a golf announcer for CBS — offering me a front row seat for some of the greatest moments in golf. I have been thinking quite a bit about requesting a reduced travel schedule, but CBS made my decision easier when they elected to not exercise the two-year option on my contract.
Finally, I have to say a big thank you to all the announcers I've worked with over the years. I believe that the CBS golf announce team is the gold standard. A special shout out to Gary McCord who has been with me every step of the way, (including that infamous 1989 Ryder Cup broadcast team!) and Jim Nantz who has been there for my entire CBS career. To the cameramen, technicians and support staff at CBS I simply say it was a privilege to work alongside you. Bye for now! I'm off to UPS to send some packages!"
Funny last statement by Kostis with a dig at FedEx.
I didn't mind either during telecasts. Yes, McCord sometimes tried to hard to be cute, but Kostis was solid. I'm sure at least Peter will get picked up soon enough by another network.
Lots of thoughts on who might fill those shoes (one in the booth, the other on the ground). Rumors are that Grant Boone, Andrew Catalon, Brian Anderson, PGA Tour network host Brian Katreck or an ex-Tour player are under consideration. CBS' first event is the Farmers Insurance Open at Torrey Pines in late January.
Stay tuned.