Matthew Wolff's Caddie Steve Lohmeyer Thanks Him For Not Having To Get A 'Real Job'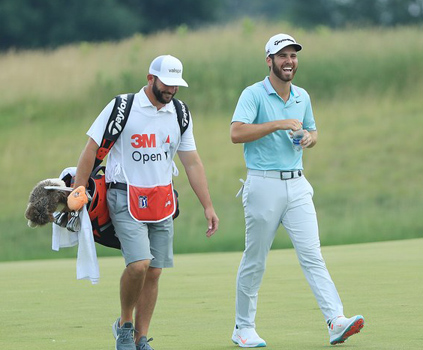 Yesterday, Tour rookie Matthew Wolff expressed his appreciation to caddie Steve Lohmeyer for keeping him loose during the stressful closing holes at the 3M Open to ultimately win his first event as a pro in three attempts. It was the first time the duo had teamed up.
The looper reciprocated the appreciation for his new boss as GolfDigest.com's Alex Myers reports. It illustrates that you never know when opportunity strikes.
"It was very neat for both of us," Lohmeyer said in a video posted on the Caddie Network on Tuesday night. "Obviously, a lot of emotions for Matt becoming a full member, getting his first win in his third professional start. Me, him saving me. I was just debating whether I was going to stay in caddying, go back to Scottsdale and get a real job. And he called me Friday, and the rest is history. I'm just so proud to be part of the team."
Lohmeyer, who was an assistant pro before becoming a caddie, explained he and Wolff "have a little bit of a backstory" through Donnie Darr, an Oklahoma State assistant coach for Wolff who was also an assistant coach for Lohmeyer at Kent State. Lohmeyer says he also knows Cowboys head coach Alan Bratton from his days as the college rep for PING when Lohmeyer was in school.
"It makes me feel very old, but also very lucky," says Lohmeyer, who will try to make it a perfect two-for-two with Wolff at this week's John Deere Classic.
"He saved me." Those are just a few of the words caddie Steve Lohmeyer shared with TCN about @matthew_wolff5 after the pair won in their first week together as a team Sunday in the @3MOpen. pic.twitter.com/di0o6hTLDj

— Caddie Network (@CaddieNetwork) July 10, 2019