Max Homa Prepared To Play Without A Caddie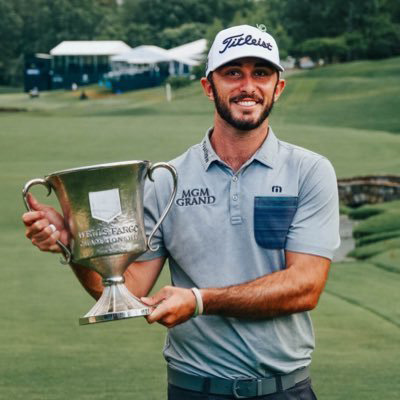 Max Homa is reigning champ of the Wells Fargo Championship (supposed to be played this week). He's also a media darling on Twitter dishing out good-natured hammering of submitted golf swings.
When asked how he'd feel about playing with the possibility of no caddie, Homa offered up a common-sense response as GolfDigest.com's Daniel Rapaport details.
"It would stink, but we'd finally have to blame ourselves for being unprepared," Homa said. "It's not like I'm not gonna play. It would be weird, and I play golf without Joe [Greiner] carrying my bag when I'm at home, so I think we could handle it.
"I'm hoping they don't make us carry staff bags, because that would get a little bit difficult. But at this point, I would carry two staff bags to play golf in a tournament if things could just go back to normal. Yeah, it'd be odd, but who knows?"
And his thoughts of playing without fans in attendance.
Possible, yes. But comfortable?
"I liken this question to me asking you what your favorite thing to watch [on TV] right now is, but two months from now," Homa said. "It can change. I know the Tour is going to do their absolute best, and they are doing their best, to make sure that we are gonna come back at the right time and when it's safe. There's a date in place, June 11, and I think there's a lot that can change between now and then."
New times call for a new mindset. Those who adapt will prosper better than the gripers.