Michelle Wie Wins First LPGA Title Since 2014 In Stellar Fashion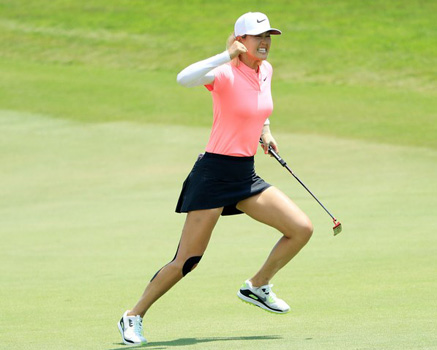 The still popular Michelle Wie finally won an LPGA event for the first time since 2014. Wie did it in dramatic fashion by sinking a 35-foot birdie putt on the final hole.
It also marks the 3rd win in four events for American players this year (Brittany Lincicome and Jessica Korda).
Golfworld.com's Keely Levins provides the details.
Starting the day five strokes off of Korda's lead, Wie played flawlessly, making six birdies over her first 17 holes. When Shin, playing one group ahead of Wie, finished with a bogey on the 18th, Wie needed one more birdie on the home hole to be the leader in the clubhouse and put pressure on Korda and Kang, who were playing in the group behind her.
"It's been a tough journey since 2014. I think it's been kind of well documented. … But I'm just really proud of myself for pulling myself out of it," Wie said. "I felt like I had a good year last year, a year where I built confidence, and I just want to keep building confidence from there. I just want to keep rising. I just want to keep playing the best I can, trying the hardest I can and trying to become the best player that I can be."
"There is no better feeling than when you sink that winning putt," said Wie, who finished the day with a bogey-free 65 and the tournament with a 17-under 271. "It's a high, for sure. You go out there, and it's this feeling that gets you going. It's this feeling that makes you practice. It's that winning putt that makes you practice for hours and hours and hours, and even the hard times, it gets you going back. You know that good feeling is on the other side."