Mike Davis Reportedly To Give Up U.S. Open Course Set Up At Pebble Beach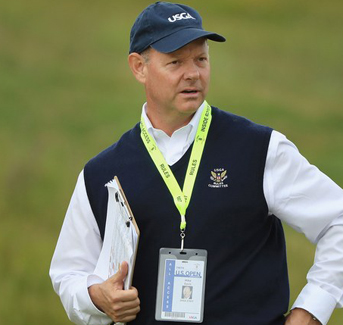 Mike Davis is the embattled course setup man (and USGA CEO). He's taken his share of licks for over-the-top tweaks to insure its claim as the most dastardly golf event of the year. At some point, you'd hope he'd relinquish the job to concentrate on other matters like coming up with more inane golf rules tweaks.
Your wishes are officially granted according to this extensive report by GolfChannel's Jaime Diaz.
Davis' handpicked setup successor is John Bodenhamer, who since being hired by Davis in 2011 has run the association's amateur championships. The 57-year-old native of Washington state, who played on the BYU golf team that won the 1981 NCAA Championship and is a former two-time Alaska State Open champion, will now run all 14 of the organization's national championships as well as its international and team events. But, as with every one of the USGA's previous lead setup men, it will be at the U.S. Open where Bodenhamer will be most scrutinized.
Beginning in 2015, difficulties at three straight U.S. Opens – bumpy greens at Chambers Bay, the Dustin Johnson ruling at Oakmont, and too-wide fairways at Erin Hills – were laid at his feet.
Then last June at Shinnecock Hills, on arguably America's greatest course and ultimate stage for the U.S. Open, the championship was tarnished. In Saturday's third round, heavy afternoon winds further desiccated an already mistakenly moisture-depleted back nine, causing balls to trickle and then roll far away from precariously perched hole locations on the 13th and 15th greens.
What made the mistake most damaging was that it so closely reprised the worst moment of the 2004 Open at Shinnecock, which happens to be one of the worst setup errors in modern major championship history. 
"John is going to take the lead, I will continue to be part of it," said Davis. "I will continue to watch the golf course closely, mostly on the broadcast. But we need somebody to be the face, and John will be outstanding at that. Jeff will continue to take an important role. Bottom line, it's a team effort. It hasn't been one person and it won't be one person. But I'm not going to be out there in the morning doing setups anymore."
As always, stay tuned as the U.S.G.A.–most infamously the last three years–has endured its share of rightful criticism.