New Millionaire Adducci Bets $100 Large On Tiger To Win Grand Slam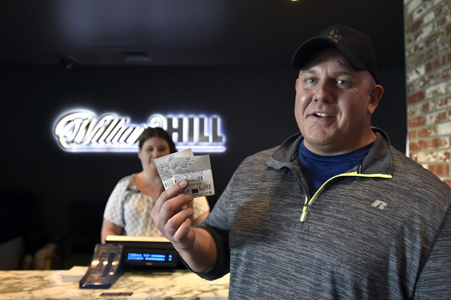 James Adducci, the bettor who cashed in for $1.2 million wagering on Tiger Woods to win the Masters, is at it again. This time, Adducci peeled off $100,000 to bet on Woods winning the Grand Slam as reported by Golf World's Stephen Hennessey.
William Hill U.S. confirmed the bet was placed on Wednesday afternoon at the SLS Casino in Las Vegas, the same sportsbook where Adducci placed—and then cashed—his first bet. Michael Grodsky, William Hill's VP of marketing, said Adducci flew to Vegas and placed the bet on Wednesday.
Adducci claims his initial $85,000 bet on Tiger to win the Masters at 14-1 was his first sports bet. The $100,000 bet at 100-1 odds on Tiger Woods winning the Grand Slam would net the 39-year-old Wisconsin man a $10 million payday. Tiger's current odds of winning next week's PGA Championship are listed at 8-1 at the Westgate Sportsbook.
His first bet marked the largest payout on a futures ticket in William Hill's U.S. history. A $10-million payout would go down as one of the biggest in sports history.
"Tiger has history winning at Bethpage, and he won at Pebble, by the biggest margin in history," Adducci told Golf Digest. "This is a very unique situation. That's the way I'm thinking about it. We know that with every win, the energy level will get amped up. His game gets elevated. The expectation—does he play well under pressure? He's the definition of excelling under pressure. That's how my brain works."
So is he crazy, or crazy like a fox? Or, maybe it's merely another example of a "fool and his money are soon parted."