Patrick Reed And His Posse Need To Go Away For Awhile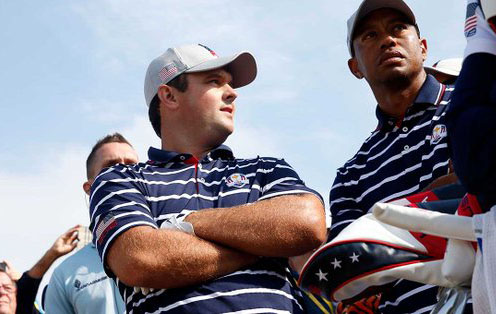 d
Patrick Reed and his family need to wear muzzles and stay off social media for a bit. The latest dustup reported by Golf.com's Josh Berhow, after another U.S. Ryder Cup loss, involves his mother-in-law–adding to the venom Reed doled out about his teammates and Cup Captain.
Things are getting, um, interesting in the comment section of @Josh_Berhow's Patrick Reed article. Reed's mother-in-law calling out Spieth, Furyk, Tiger, the "Buddy System," and a lot more… pic.twitter.com/DVe5O3lSk4

— Dylan Dethier (@dylan_dethier) October 4, 2018
Reed appears fully castrated by his female homies. He'd be wise to grow a pair, stat! and tell them to stop continuing the madness.
Speaking to Karen Crouse of The New York Times later that night, Reed said, "I think Jordan could see in my eyes that I was about to light up the room like Phil did in '14, and that's why he jumped on the answer."
"The issue's obviously with Jordan not wanting to play with me," Reed told Crouse, adding he had no say in the pairings. "I don't have any issue with Jordan. When it comes right down to it, I don't care if I like the person I'm paired with or if the person likes me as long as it works and it sets up the team for success."
But Mickelson in '14 and Reed in '18 aren't remotely the same.
Regarding Reed…
"I'm shocked," Faxon says. "I always have felt like what happens in a Ryder Cup, especially the team room, it's better left, ya know… when you go to Vegas—it stays in Vegas."
Reed has a Masters title and, until this year, a stellar Ryder Cup resume. But he doesn't have the influence Mickelson did four years ago. Reed, 28, is a loner on Tour. He butted heads with teammates in college. Said Henrik Norlander, who played at Augusta State with Reed, in a 2014 ESPN piece: "He shot his mouth off early on when he shouldn't have." Today Reed often plays practice rounds by himself and his management team is essentially his wife and a small close-knit group; his wife's brother is his caddie. Reed's side of the family is estranged.
Golf doesn't have to be a solitary pastime. However, I believe Reed might find out that's the only way for him to play in the foreseeable future.