Patrick Reed's Attorney Goes After Brandel Chamblee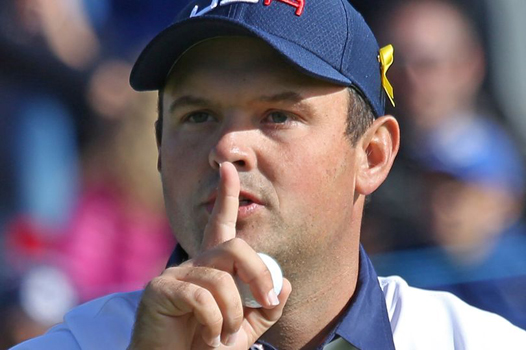 Patrick Reed is the lightning bolt of the PGA Tour. Talented, brazen with a heaping helping of cuckoo. His latest headlines revolve around his skirting the rules in a waste area at Tiger's Hero Challenge. The ensuing backlash continued at the President's Cup and last week's Sentry TOC.
Now, his attorney has joined the fracas. According to GolfWeek's Eamon Lynch, legal beagle Peter Ginsberg has sent a cease and desist letter to GolfChannel's Brandel Chamblee to not repeat accusations Reed purposely bent the rules at the Hero.
"The purpose of this letter is to obtain assurance that you will refrain from any further dissemination, publication or republication of false and defamatory statements concerning Mr. Reed, including any allegations that he 'cheated' at the Hero World Challenge in the Bahamas," wrote Peter Ginsberg, a partner at the New York City law firm of Sullivan & Worcester.
Ginsberg, who previously represented Ray Rice and has sued the PGA Tour on behalf of Vijay Singh and Hank Haney, confirmed to Golfweek that he represents Reed and sent the letter.
Reed's lawyer tersely noted that his client stated at the time there was no intent to change his lie or violate any rules. "Indeed, as you should know, and presumably do know but chose to ignore, if the PGA Tour believed that Mr. Reed had intentionally violated any rule, he would have been disqualified from the tournament rather than assessed a two-stroke penalty," Ginsberg wrote. "Everyone involved agrees that Mr. Reed acted unintentionally, and the tape of the incident fully supports that conclusion."
"My job is to be accurate in my analysis and I weigh my words heavily," Chamblee told Golfweek. "Nothing I said on the air did I say flippantly. I thought about how exactly to say it to get closer to the larger point about the traditions of the game. That's the origin of my remarks. They had no malice. They were meant to be accurate and admonishing about the decay of the traditions of the game. Instead of self-policing it's catch-me-if-you-can. And that bothers me."
"The attempt by Reed's lawyer to silence public discourse about his client's tournament conduct is outrageous and not legally supportable," said Jodi Balsam, a professor of sports law at Brooklyn Law School. "As a public figure, and especially as an athlete, Reed assumes the risk of frank and even censorious commentary about his performance and admitted rule-breaking. Nothing Brandel Chamblee said amounts to a false statement of fact, but falls within his well-established and absolute right to express an opinion."
Meet the new year. Same as the old year…