Golfer Loses Chance At Euro Tour Card After Incurring Crazy Penalty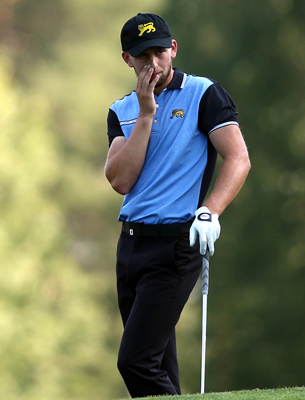 Gian-Marco Petrozzi suffered one of the more bizarre 2-stroke penalties while striving to gain entry into the European Tour's final qualifying stage. Golfweek's Brentley Romine has the weird details.
The 21-year old from England carded a final-round 65 Wednesday at Las Colinas Golf and Country Club in Alicante, Spain, one of four second stage sites. His spirited effort included a hole-in-one at the par-3 17th and five birdies in his final six holes.
But it's what happened on his final hole, the par-4 ninth, that sent the golfer packing.
While walking off his yardage for his approach shot, Petrozzi passed through a bunker. As a courtesy, he decided to rake his footprints. Twenty minutes after his round, Petrozzi was informed that he had improved his line of play and breached Rule 13-2.
— Gian-Marco Petrozzi (@GianPetrozzi55) November 5, 2018

"Tough lesson learned today," Gian-Marco tweeted.
Strange indeed. If only because who walks thru bunkers stepping off yardage? I never have but that doesn't mean much. Still, how did it really improve his line of play merely by raking the sand when all bunkers are raked?
Help me out here.
UPDATE: Okay, our rules guru David Price from Bent Tree CC in Dallas lends a hand.
Very unfortunate but one of the sacred rules in golf is Rule 13-2 which, in part, states that you cannot improve the lie of your ball, the area of intended stance or swing, or your line of play.
Decision #13-2/29 is direct to that very event. He was okay when he walked through the bunker and possibly worsened his line of play. However, when he raked it on the way back, he then improved his line of play, albeit he was the one who worsened it.
The sad thing is that he was doing what he has been taught all of his golfing life to do, rake his footprints when he leaves the bunker.
Still strange but at least I get it. Sort of…