Phil Mickelson Is Golf's Most Interesting Man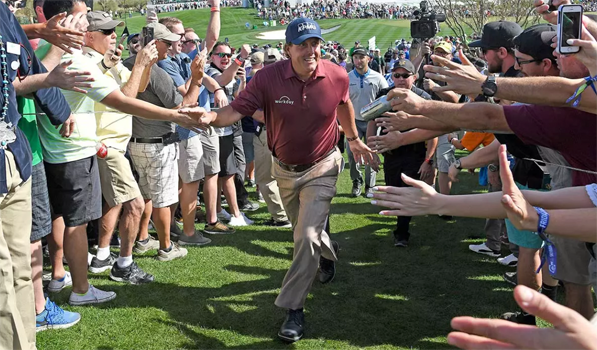 Phil Mickelson just may be the most interesting man in golf. With 43 career wins (ninth all-time), five majors and over $87 million in on-course earnings, Lefty is certainly a Hall of Famer by any measure.
He's also quirky, enjoys living on the edge on and off the course, is a fervent gambler and has no problem disrupting and jabbing the staid and ultra-conservative world of golf. Some find Mickelson engaging, others believe he's a phony blowhard. Yet, he's probably the closest to Arnold Palmer of anyone on Tour in public demeanor, generosity and autograph signings to be a fan fav.
Oh he also owns a black belt in Taekwondo…
Golf.com's Alan Shipnuck (who regularly provides excellent long reads pulling back curtains on a Tour pro's life) delivers another good one following Phil around. I recommend reading the entire piece.
"If I look back to when I won the PGA Championship at Baltusrol in 2005, I was 15 pounds heavier, I looked awful, and here I am 13 years older and I'm in better shape," he says. "I physically feel better. I eat better. I take care of myself better. Most people regress. I feel like I've improved a little bit over time."
If Phil had managed to make a bogey on the 72nd hole at Winged Foot in 2006, that would have been three major championship victories in a row; he calls that "my best run." Yet he says, "I actually do believe I'm starting to play better than that. Now does that mean that I'll have the results? I don't know. There's a very deep pool of players right now that hit the ball longer than 15 years ago, that have speed and great instruction and are just better players than we were 15 years ago. So how will that translate? I don't know. But I do believe I still have a couple more [victories at the] majors in me. Majors are easier for me to win than a regular Tour event, I would say. Raw power is not as important and experience is more important."
The large TVs in The Bridge's restaurant are suddenly showing an interview with Clint Eastwood talking about his movie The 15:17 to Paris, which piques Mickelson's interest. The flick received only mixed reviews from critics, but he says, "I really enjoyed it. Of course, I'm not a very good movie critic in that I'm not critical. I like 'em all. Except the movies that win awards, like The Shape of Water — I just didn't care for that. A love story with a water alien? I just didn't get it. I actually had dinner with Clint one time, and he was raving about La La Land. So I watched it, and I'm like, 'That was miserable. That was the worst frickin' thing I've ever seen.' So obviously my movie prowess is not very good."
He'll drive to Temecula to peg it with Tom Pernice at Bear Creek, or travel to Irvine to play with Brendan Steele and John Mallinger and Luke List at Shady Canyon, or host Charley Hoffman at The Bridges. "You just want to compete," he says. "The smack talk, the bets, the whole thing — that's the fun of it." But as always, Phil is looking for an edge. "When you play with Luke List, you realize how great a driver of the golf ball he is and how much area for improvement there is in your own game, so afterward I go back and work on that.