Russell Henley Crazy 8-Stroke Penalty Means MC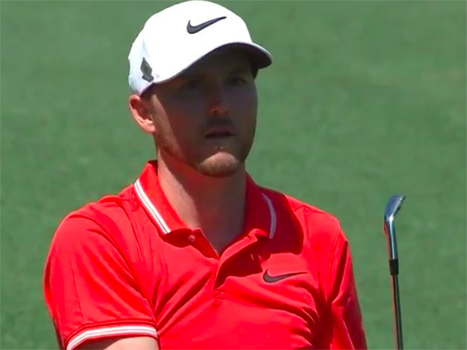 Russell Henley was part of a crazy rules violation at the Mayakoba Golf Classic. How crazy? Well, by taking an 8-stroke penalty due to a nutty rule he was forthright enough to call on himself.
It's called the One Ball Rule where you cannot change the type of ball after beginning play. And where did he figure out the infraction? In the autograph line after the 2nd round. Golf.com's Dylan Dethier provides the head scratching details.
The 30-year-old thought he had posted a second-round 69 (and a two-day total of 7-under) before he discovered he had violated a penalty in an unlikely place: the autograph line. While handing out golf balls after the round, Henley discovered that he had used two different types of Titleist ProV1x golf balls during the round.
PGA Tour's Cameron Morfit reported that the eight rules officials on site gathered together and consulted the USGA to determine the correct ruling. At the same time, Henley worked out which holes he had used the illegal ball on, ultimately settling on 9, 10, 11 and 12. After deliberation, the Tour decided to penalize Henley two shots per hole for a total of eight penalty strokes.
Rules official Brad Fabel told the PGA Tour that he had a lot of respect for the way Henley handled the controversy. "He was great," Fabel said. "I've got a ton of respect for that gentleman." He added that the decision had not been easy.
"It was a small dash, a different way it was marked that would have been easy to overlook," Fabel said. "He came to us and said he didn't know how it had gotten in his bag."
Compared to the retail version, which offers a high launch and moderately high spin, the "Left Dash" model generates a similar high launch with less spin.
While most professionals gravitate toward Pro V1x because of the spin it generates, there are a handful of elite amateurs and major winners, including Lucas Glover and Jimmy Walker, who prefer the launch of Pro V1x with a lower spin rate. It's a subtle recipe tweak some better players will be able to notice and appreciate.