Sergio Garcia And TaylorMade Call It Quits After 15-Years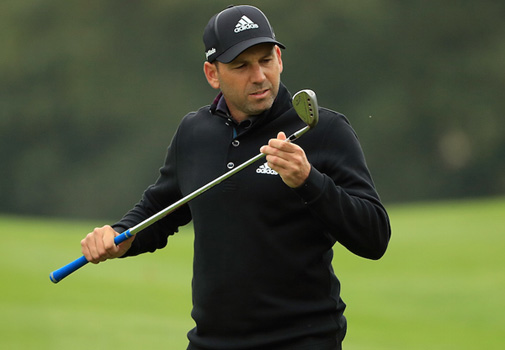 Under the category Nothing Lasts Forever, TaylorMade and their marquee endorsee Sergio Garcia called it quits after 15-years. Whether it was the company's split with Adidas thereby shrinking ad budgets or Sergio merely wanting to swing different sticks, it was a good run for both.
As always, eyes scan forward to see which fortunate golf club company will ink the reigning Masters champ. Early odds peg Callaway via Golfwrx.com. But, I wonder if PXG will get in the mix (with founder Bob Parsons shelling out millions). Sergio would easily be the biggest name in the their fleet.
When we recently spotted Sergio Garcia with a custom Odyssey Toulon putter, and then later using a Callaway Mack Daddy wedge in competition (pictured below), it seemed to be only a matter of time that TaylorMade and Garcia would soon part ways. That day has now come. 
Golfpunkhq.com ads this tidbit.
It had long been rumored that Sergio Garcia was an Adidas contracted athlete first and foremost. He used an Adidas tour bag instead of the TaylorMade one that most TaylorMade staffers used. With TaylorMade formally splitting from Adidas now, Sergio may have decided now was a good time for a change. 
Garcia was with Titleist until switching to TM in 2003. So, does affect what happens with the five remaining big TM players Dustin Johnson, Jason Day, Rory McIlroy Jon Rahm and Justin Rose? Tiger Woods is part of that group as well but currently as a non-playing endorsee.
This is the best Woods can currently offer.
Smooth iron shots pic.twitter.com/v9XLROZnfW

— Tiger Woods (@TigerWoods) October 7, 2017
Something tells me the new marketing plan revolve more with apparel than golf equipment as its far easier to look like a Tour pro than play like one. Also, its far simpler to identify clothing logos than what clubs are in a pro's bag.
I believe that's the way to go anyway. It's smarter to play whatever golf equipment suits you the best (winning always pays handsomely) while being a clothing billboard and earning piles of cash for doing so.