Spieth Caught On Camera Chastising Caddie Greller and Fans Respond In Kind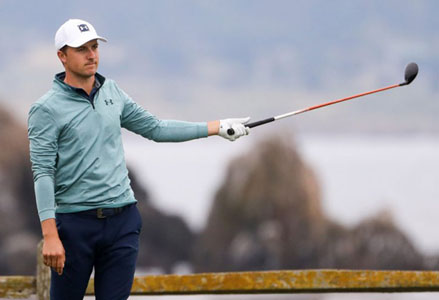 Most golf fans are familiar with the Jordan Spieth narrative during a round. He's either talking to himself or the ball once its struck.
Yesterday probably wasn't a golden moment for Jordan. After his tee shot rolled off a cliff on 8, he then flew the green on his approach from the drop area. Then this was picked up by Fox Sports' mics.
Jordan Spieth just completely called out his caddie on national TV. Whether the caddie misjudged it or not, that's a bush league move. At the end of the day, you're the one hitting the golf ball.#USOpen pic.twitter.com/lFSYQSGrvR

— Danny Vietti (@DannyVietti) June 13, 2019
"You got me in the water on one and over the green on the other."
Of course, Twitter was quick to pile on. Yes, there's some justification too.
Very. The rule (normally) is; Left or Right=Players Fault. Long or Short=Caddies Fault. What was lost was before hitting the shot to the green Greller tried to talk Spieth into hitting one less club.

— Michael Collins (@ESPNCaddie) June 13, 2019
A great caddie has to occasionally give in and jump on board. with what the player is feeling. And then make the player believe he is 100% making the right decision. Then swallow his pride and take the blame when it doesn't work out. #caddiethoughts

— Brent Henley (@BRENTHENLEY) June 14, 2019
If Game of Thrones wasn't so dead to me I would say that Spieth just went full Daenerys Targeryen on Greller and then insert a gif of her saying "Dracarys". But I won't cuz I'm over that show, obviously

— max homa (@maxhoma23) June 13, 2019
I get it that emotions can run high after two frustrating shots. And these type of player/caddie exchanges occur more often than you think–the mics just happened to eavesdrop on this one (that tends to happen when you're in the featured group). Still, its a tough look when a boss undresses his employee for public consumption. Spieth and Greller are known as one of the tighter duos on Tour.
Here's how Spieth explained it afterwards…
"Yeah, I may have looked like the bad guy there, but my intentions were that we should be in play if the ball is hit solidly, and I was out of play on both shots," Spieth said. "We were talking about potentially one less [club on the second shot], and I said, 'But isn't it playing about 60 [yards] with a fade?' And then he said yes.
"So we both agreed on that. It was clearly a 4-iron off the tee. At the same time, when you hit a couple of shots exactly where you want to, and the first one is in the water and the next one is dead over the green, I'm going to be frustrated that as a team we didn't figure out how to make sure that didn't happen."
Spieth wound up shooting +1 for the day. Or was that Greller?