Steven Bowditch Tweets Out A Caddie Call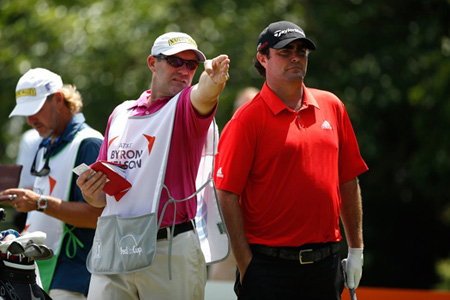 Aussie Steven Bowditch is struggling through a rough patch on the PGA Tour. Ok, struggling might be an understatement as he's missed cuts in 35 of his last 37 events. Its hard to fathom since he won the Byron Nelson Championship in 2015 and earned a spot on the President's Cup.
But as we know, even pros can lose their way. In fact, most pros would require a padded cell to cope with the stout MC record , but Bow leans heavily on  self-deprecating humor to sooth the wounds–which makes him an easy mate to root for.
His latest bit involves posting a Tweet recruiting a caddie for the John Deere Classic this week. Others have posted caddie invites but its normally part of a sponsor promotion. This is all Bowditch with no ulterior motive other than having some fun.
GolfDigest's Alex Myers provides the funny details.
Any local kids/college players in the Quad cities area that are interested in caddying in the tournament this week, this thread is for you. The best response/reason gets the job. 2pm Tues start, finish Friday. 1% chance Sunday. Payment: all leftover gloves and balls are yours 😉

— bowdo (@bowdo83) July 10, 2018
This made me giggle–2pm Tues start, finish Friday. 1% chance Sunday.
One responder asked whether he could also caddie for Bowditch at next week's Open Championship if the Aussie happens to win this week and qualify for the season's third major. "Without doubt. Not even a question," Bowditch replied.
Here's the winning submission.
This man has the heavy lifting for the week.. Thank you to all that offered. Love reading the replies and DMs.
Let's get it this week Elias! https://t.co/llmECjxR0H

— bowdo (@bowdo83) July 10, 2018
And a post after the Tuesday practice round.
Day one completed with @e_francque The kid is a stud!! #johndeereclassic pic.twitter.com/G0xKNYmueb

— bowdo (@bowdo83) July 11, 2018
Man, how much are you rooting for Bow this week? I am all in. Go Bow!