T.J. Vogel's Monday Qualifying Record Is Fairly Epic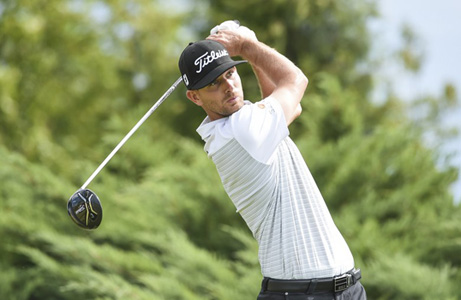 T.J. Vogel is amassing quite a Monday Qualifying portfolio. The 2012 U.S. Public Links Champion qualified yesterday at for this week's AT&T Byron Nelson Championship–his fifth successful qualifier this year.
Anyone who has ever played one of these or has played professional golf knows how insanely great this is. Keep it rolling TJ. https://t.co/MFsYW2hpIT

— Steve Wheatcroft (@wheatiePGA) May 14, 2018
Given most Monday qualifiers are literal shootouts where you have to go low, Vogel's record is quite impressive. GolfWorld's Stephen Hennessey reports on the magnificent feat.
To give an idea of how hard Monday qualifying can be, consider last year's Shell Houston Open qualifier. The scores were scary low; 34 players shot 67 or better and five guys who shot 64 didn't qualify. It is truly one of golf's most difficult tests, which is why Vogel earning his way into five PGA Tour events this way is quite the feat.
Vogel has cracked the code, if you will, shooting a 63 in March to qualify for the Valspar Championship, 64s to qualify for the Honda Classic and RSM Classic and a 65 to earn a spot into the Wells Fargo Championship.
So how has Vogel fared in the tournaments proper? So far, Vogel is 2 for 4 in making the cut, with his best finish coming at the Valspar (T-16). We'll see if the former Florida Gator golfer can convert on his latest chance of teeing it up on golf's biggest stage.
Regardless, Vogel is nearing the records of players like Patrick Reed and Austin Cook, who each put together some of the most impressive Monday qualifying stretches of all time. Reed's 2012 Monday-qualifying record was truly exceptional, earning spots in the fields four times in four tries, mostly driving across the country with his then-fiancee, Justine. And Cook's success in 2015 in Monday qualifiers led to some big-time success: finishing in the top 25 in six of his first 10 PGA Tour starts, even as he was a non-member. Though Cook fell just shy of earning his card in 2015, he earned his spot on the PGA Tour in 2016, then won the fourth start of his rookie year.
Vogel told Mondayq.com: "Instead of putting the PGA Tour and players on a pedestal, I began to believe I am just as good and can compete with these guys."