The Woods Vs. Mickelson Money Match Still Has Issues To Sort Out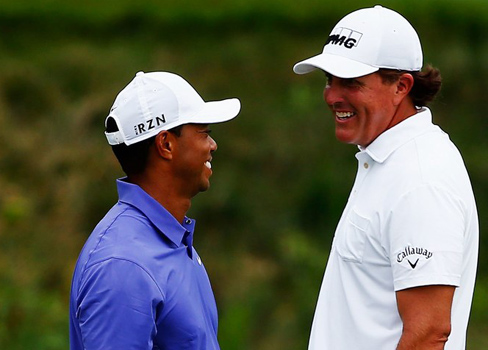 The anticipated big money exhibition between Tiger Woods and Phil Mickelson is somewhat officially scheduled for Thanksgiving weekend. But like most anything, there are still negotiations (money), a still-yet agreed-to TV contract, and of course, putting some of their loot on the line.
GolfDigest's Joel Beall reports that while it'll probably still come off, having two of golf's iconic names agree to all terms will take some patience for all parties–including the viewers.
Golf Digest has learned that the power duo is proceeding with plans to create a series of high-stakes head-to-head matches featuring many of the world's top-ranked players, perhaps occurring twice per year—once around July 4 and once at Thanksgiving. Two-man team events also are being contemplated—including Woods and Mickelson partnering in future four-ball matches.
While many pieces to the puzzle are still missing, a television contract has been finalized. Cable network TNT, which shares the rights to this week's PGA Championship with CBS, has agreed to broadcast the showdown across its multiple platforms.
"I don't know, we'll see," Woods said Friday at Firestone Country Club in Akron, Ohio, while competing in the WGC-Bridgestone Invitational. "The plans are for this one and possibly more, but you just never know. When we first did the Showdown at Sherwood, it was basically only a one‑time deal, but it ended up going more than that. So, we'll see what happens with it this year."
Added Mickelson: "We're both realizing that we can get a lot more done together than on our own. It's been fun to work with him [Woods] on Presidents Cup and Ryder Cup as well as our match—and potentially other things."
The proposed figure is $10 million, equal to the purse at the WGC-Bridgestone Invitational won by Justin Thomas. Sources familiar with the ongoing contractual talks say the PGA Tour is not comfortable with that payout, because it potentially "overshadows" the total purse at all but a handful of its tournaments.

Another is whether or not the two very wealthy players would—or could—put at risk some of their own money. Sources say the subject has been broached, though to what extent is unclear. It would not be included in the primary stake, but the two might give at least passing consideration to reaching into their own pockets for some kind of press or a side bet to goose interest levels.
"Let's face it," said one television spokesman, "for this to work, to get people's attention, they have to play for some of their own money somehow. Who wouldn't watch that?"
Then there was Monday Night Golf on ABC, which rode the mania surrounding the emergence of Woods, the most dominant player since Jack Nicklaus. Ratings were solid for the first four years—averaging 6.4 with a high of 7.6 for the 2000 match pitting Woods against Sergio Garcia. But numbers slid precipitously thereafter. Mickelson appeared in the final three years in team formats. The final show, featuring major winners Woods and John Daly against Mickelson and Retief Goosen drew a 3.0 rating.
Okay, I love the side-bet proposal and some possible other players involved for future matches. At this point while both are prideful and want what's best for themselves, having the idea squelched over ego doesn't seem like a conclusion either wants to occur.
As usual, we'll monitor the news for ya.