Tiger Woods' Improbable And Incredible Return To Greatness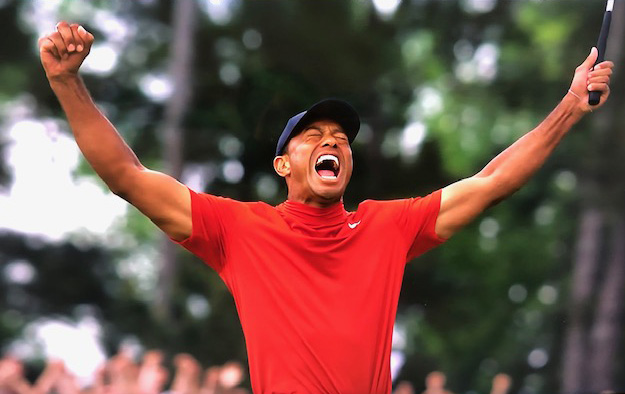 The eulogies of a Tiger Woods playing career were plentiful a mere two years ago–including those from Tiger himself. His body had broken down, he couldn't get out of a chair or walk without pain–much less compete against the best golfers in the world.
"For my 20 years out here, I think I've achieved a lot," Woods said. "If that's all (my career) entails, then I've had a pretty good run."
Meaning, Woods would be forever stuck on 14 majors and 79 PGA Tour wins.
Flash forward to this year's Masters. Tiger shot a typical round 70) before slowly creeping up the leaderboard to land in a unique morning start final group threesome with Tony Finau and Francisco Molinari. He was calm, steady and chewing gum.
Molinari looked stoically robotic himself having suffered only one lone bogey on Thursday and extending his lead to three. Until the diabolical par-3 12th. Molinari rinsed his tee shot for a double-bogey (inexplicably along with Brooks Koepka, Tony Finau and Ian Poulter). Woods shrewdly found the middle of green for a two-putt par. That two-shot swing opened the door and Woods never looked back–even with Dustin Johnson and major-grabbing Brooks Koepka in close pursuit.
Tiger Woods only had to bogey the 18th to win by one. What followed will never be forgotten.
Roaring back.#themasters pic.twitter.com/nlTwxWJW8X

— Masters Tournament (@TheMasters) April 14, 2019

And then this sports-cry moment.
A moment between a father and a son.#themasters pic.twitter.com/Ft0ta2mD5o

— Masters Tournament (@TheMasters) April 14, 2019
About his two kids being present…
"I think that ‑‑ I think ‑‑ well, I hope, I hope they are proud of me," Woods said. "I hope they are proud of their dad. So I've been very blessed to have two great kids, and just to have them here to see this and witness this, you know, I've tried to describe ‑‑ they have never been to Augusta National, so try and describe the slopes and everything. I said, this is a pretty unique event. This is very special. Really hope you guys are able to come. So it all worked out and here they are."
It was his first major win without holding or sharing a 54-hole lead. It was the first time in quite a while the Masters winner was outside the top-10 (T11) after the opening round.
I've always admired Woods' talent but not necessarily the person. But, we will embrace the underdog story–especially when the subject appears truly contrite and appreciative for second chances. The "Tiger!" chants were spine-tingling–especially when erupting from the staid Augusta National. And everyone was perfectly okay with it.
Now, Woods sits at 15 majors–three behind Nicklaus. What was laughable a mere two-years ago now looks downright possible. Plus, Tiger has won majors at two of the upcoming venues Bethpage Black (PGA) and Pebble Beach (U.S. Open).
Tiger is back. Golf is back. And we're all the better for it.
SI.com's Michael Rosenberg nicely captures the essence of the improbable achievement.
He loved the game and we loved to watch him, and that kept us together. But he dominated so ruthlessly, and so thoroughly, that eventually we probably would have gotten tired of it. He played entire rounds without acknowledging spectators and flew through entire press conferences without saying anything memorable. He was a hard man to get to know, an even harder one to understand.
A lot has happened since then. Some of it was covered by tabloids and most of the rest can be found in his medical records. But Woods has pulled off a feat that seemed impossible when he was at his peak. He became relatable.
The leaderboard operator pulled back the row of squares next to Woods's name to insert a number, and waited … and waited … and waited … waited so long, it had to be intentional. Then the row slammed shut, harder than any leaderboard row had been slammed all week, the operator's equivalent of spiking a football. There was a 14 on Woods's line, and a roar that felt straight out of 2002. Augusta National can make you feel like time stands still. Woods knows better.
Caddie Joe LaCava on their long journey and win via GolfDigest.com's Keely Levins.
"It's nice to get to 15, 18 isn't a thought," said LaCava. "Now 15's here, let's get to 16. Is it [the record] in play? Sure. The guy's 43-years-old, a guy like him could win when they're 50. Sixteen is the next mission."
Still, this win feels good, even in the context of all of Tiger's great wins. "It's been a long time, lot of question marks, lot of injuries," said LaCava. "I think 15 is, who knows, looking back 10 years from now, 15 may be the hardest one."
"I don't know if I dreamt about it, but I pictured it. I wouldn't have stuck around if I didn't think he was capable of pulling something like this off. He is Tiger Woods after all, right?"
Yes. Yes he is.
Finally, this man was maybe the second-happiest person after the win.
On Tuesday, a bettor at a William Hill U.S. sportsbook at SLS Casino in Las Vegas, Nevada placed an $85,000 bet on Woods to win at 14-1 odds. It was the first bet ever placed by the customer at William Hill and will pay out $1.19 million, the largest single golf ticket in the company's history in the U.S.
"Pretty good first bet," William Hill U.S. director of trading Nick Bogdanovich told ESPN.
It's believed to be the fourth seven-figure payout on a bet at a William Hill U.S. sportsbook. The previous three were on the Philadelphia Eagles in Super Bowl LII against the New England Patriots.
"It's great to see Tiger back," Bogdanovich added in a release. "It's a painful day for William Hill — our biggest loss ever — but a great day for golf."