Tiger Woods Masters Win Brings Big Financial Impact To Many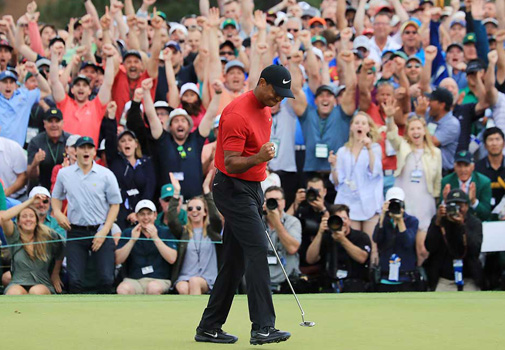 Tiger Woods continues altering the landscape of golf–especially when winning majors–double especially when winning his first major in 11 years and 1st Masters in 14. Everything is positively affected, be it TV ratings, apparel and yes even equipment sales.
Call me mildly surprised–at least in equipment sales. I know Tiger drives apparel merch but there's a reason Nike left the equipment biz. Now, maybe they left a bit early? I'm going to say no. Work what you know and Nike knows apparel.
ESPN's Tom VanHaaren presents the sale surges linked to Woods' 5th Green Jacket.
According to CBS, the final-round coverage and encore presentation was seen by 37.2 million viewers, a 41 percent increase from 2018's live-only coverage.
He estimates the effect of Tiger winning to be north of $550 million at the bare minimum, a $100 million increase over last year's victory by Patrick Reed, which was tracked by GumGum in 2018.
The Masters tweets out video of the final putt from the champion each year. Reed's winning putt from 2018 has been viewed 393,000 times.
The same video of Woods this year, as of Monday morning, has been viewed 7.85 million times. (a 1,900% increase)
After the Masters, Bridgestone saw a 209 percent increase in engagement on Twitter, a 400 percent increase on Facebook and a 205 percent increase in website traffic as compared to last year's Masters week.
The company has even switched production lines to produce more of Woods' model ball in anticipation of increased demand. Consumers can now purchase the same model Woods uses in tournament play, with "TIGER" stamped on the side of each ball.
That ball, the Tour B XS, will be made available to consumers later this week and has already sold out to the retailers who purchase directly from Bridgestone.
The TaylorMade irons Woods uses also saw run on sales. Meaning, when Tiger is rolling, his sponsor brands receive a terrific return on investment.