Tony Romo Accepts Invite To AT&T Byron Nelson Championship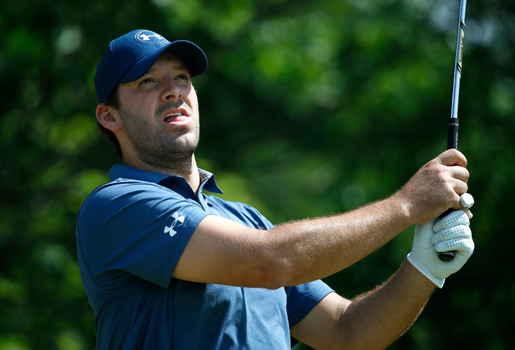 Tony Romo is going to play in the AT&T Byron Nelson Championship--not only in the Wednesday Pro-Am but against the pros–at least Thursday and Friday. Kudos to Jon Drago and the Salesmanship Club for using a sponsor exemption inviting the locally and nationally high-profile name.
Because, given their tough date a week before the PGA Championship and unique links layout (not the best warmup for a PGA Championship) it will be hard-pressed attracting a stellar field. And, since they're still vying for eyeballs and headlines, giving Romo a spot is simply Marketing 101. Heck, I'd invite Dirk Nowitzki or Jerry Jones as well if they were scratch golfers. Buzz is buzz.
Sportsday.Dallasnews.com's Brad Townsend has the details.
"We've talked about it for years," tournament director Jon Drago said. "He's tried to qualify for some of them, has had conflicts with football. Now we're playing at Trinity Forest, his home course, and he's not playing football.
"The timing just felt right this year."
Drago also cited Romo's victory in last July's American Century Championship in Lake Tahoe, a celebrity event that annually draws top athletes from other pro sports. Since Romo played as an amateur, as will be the case in the Nelson, his $125,000 winner's check was donated to charity.
"Golf is one of my greatest passions outside my family and football, and I am honored to have the opportunity to compete amongst the pros again in this year's AT&T Byron Nelson," Romo is quoted as saying in a Nelson news release that will be distributed Tuesday.
It's not the first time Tony has accepted a Tour spot. He shot 15-over in his two rounds to finish last.
However, in the opening round, Romo did tie or beat seven Tour pros (four Tour winners, and 1 major). Thus, he was hardly an abject failure.
The #1 CBS NFL analyst is a definitely a good stick. But making the cut against stout pro talent is a very tall order. No matter, as Tony will attract curious eyeballs and give the event top-of-mind status the week of May 6.