Trevor Immelman On Life After Earning A Masters Green Jacket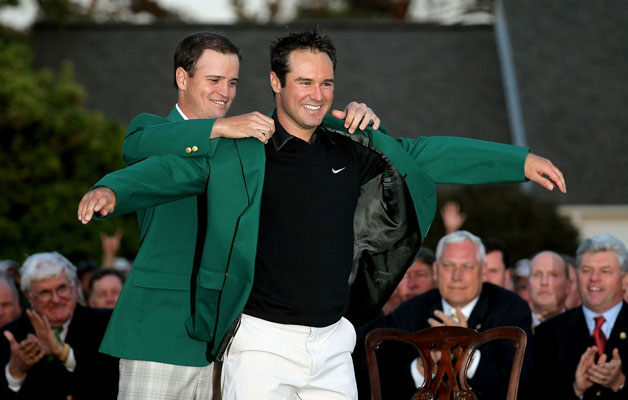 Photo by Harry How
The golf landscape is littered with one-time major winners. In fact there's been over 100 of them. Trevor Immelman is one via winning the 2008 Masters.
Golf World's Dave Shedloski visits with the South African who won five times on the European Tour and the 2006 Cialis Open but now makes a living talking golf on the GolfChannel.
"I wasn't going to miss the 10-year anniversary," he says. "It's gone so fast. I've had so many things happen. I wasn't going to miss this one, but going forward we'll have to see. One, there's the TV work. Two, I'm not the guy that going to keep throwing two 78s up there and play on ceremony. And let's face it, it's tough to get ready this way."
"There's 5 percent of me that feels like I can still figure it out and contend in a tournament or two. But very often there's a reality check to it at the end. Probably where I'm headed this week, but you never know."
A few nagging injuries and one big one—a left wrist that eventually required surgery—prevented him from building on that triumph and using the accompanying surge of confidence. But even before the physical disabilities, Immelman wasn't making inroads to further success. And that was a surprise to many.
"I'm not going to lie to you. From 2002 to 2008 I had a steady ascent up the ranks of the game" Immelman said. "I was playing well in big tournaments. I felt like I had a very good foundation. I thought I was going to kick it on into winning more, maybe grab another major or two."
"I played too long with it injured," he added, referring to the wrist injury, one of the worst a golfer can sustain. "Then bad habits. Had surgery and a long layoff. Came back and wandered too far off of the blueprint when I played well, from a technical standpoint. When you deviate too far from the things that you do well and that you are trained to do and can do under pressure, it's a very tricky place to be. You're going out to battle without essential gear, so to speak. You don't feel quite yourself, you don't have the same misses under pressure, aiming gets tougher, things slowly start to erode.
"Being a great golfer is a delicate thing. Delicate from a mental, physical and technical standpoint. And I didn't understand that when I was climbing the ladder. You only get a sense of it on the way down."
"I enjoy the TV work, and I have an interesting perspective on it. I've worked with a lot of coaches, spent time with a lot of greats. I have a lot of little tidbits to share on TV. It feels like my next career, and I can see myself doing that full time. But I'm not ready to go down that road all the way just yet."