Trinity Forest GC Leans On Wind To Defend Against Tour Pros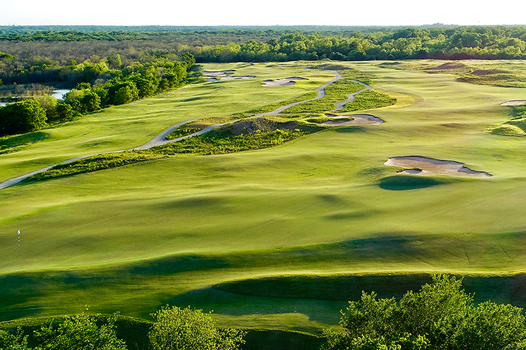 When Trinity Forest Golf Club was designed, the links setup's main defense was the prevailing 12-15 mph breeze. Wind is usually the only barrier from talented pros posting rounds in the low 60's. Such was the case last year when winner Aaron Wise obliterated the AT&T Byron Nelson event under calm conditions in 23-under par.
PGATour.com's Mike McAllister tells us what to expect–depending on the how hard or soft the winds blow.
"It was firm and fast last year. Tee balls were going a country mile," said PGA TOUR agronomist Mike Crawford. "50, 60, 70 yards of roll – almost unheard of. I think there was at least one drive of 400 yards.
"But this year, we'll see the golf course play differently."
The direction of the wind also could make a big impact. The winds have been coming from the south early this week but are forecast to switch on Thursday to a north wind for the rest of the week. That means players will have to adjust their gameplans.
"This north wind … it's not the wind that the course is designed for," said Jordan Spieth, Trinity Forest's most notable TOUR member.
"Holes will be quirkier. You have to play like shots that you wouldn't normally have to hit. You might hit 6-iron into No. 15 green, which is a green that's normally designed to hold a wedge. Certain holes are going to be really, really tough but then a couple of the par 5s are easier with this wind.