Two Consecutive Aces On Same Hole? 1 In 144 Million !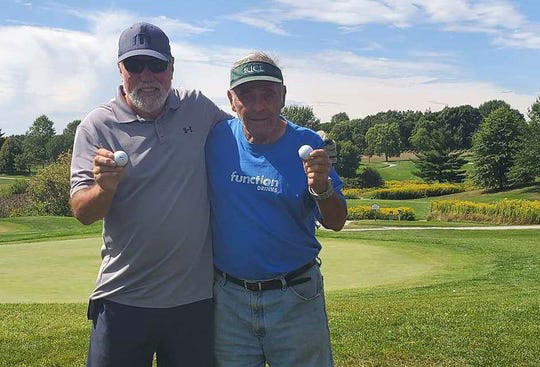 Incredible stories of aces have peppered me forever. Mainly because I'm 0-for-a-lifetime getting a hole-in-one. This saga is another on a long list to beat me into submission. Two amateur golfers on consecutive swings on the same hole earned an ace. Odds: 144 million to 1 (which feels like my odds getting one while I'm above ground).
Anyway, Austin Danforth has the details of a most unlikely achievement.
The duo's friendly afternoon round at the Links at Lang Farm had barely begun when it graduated to lore Tuesday afternoon. Gaboriault bagged his first hole-in-one from the white tee on the 156-yard par-3 10th hole and Maritano, playing from the red tee a few yards closer, followed suit moments later with the 18th of his career.
One hole. Two swings. Two aces. 
The odds? One in 144 million.
That figure is based on the 1-in-12,000 chance that an amateur has of recording an ace, according to the National Hole-in-One Registry.
"I was in a daze. To have one hole-in-one, even if it was Bob's or mine, is something that's pretty unbelievable," said Gaboriault. "But to have both be in the hole on your first shot of the day … things like that just don't happen." 
Except it did. When the twosome reached the green, Gaboriault's Nike and Maritano's Callaway were resting side by side, waiting to be plucked from the bottom of the cup. Gaboriault used a 5-iron, Maritano a 5-wood, according to Gaboriault.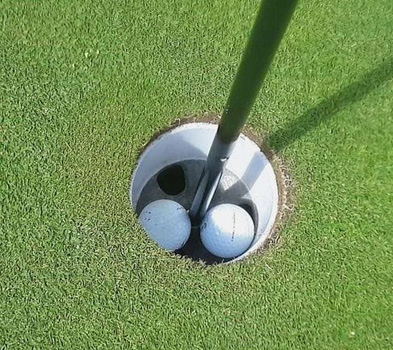 And here's the kicker: Like his other four aces — yes, four — this season, including three in the past 10 days, Maritano couldn't see it go in. A case of macular degeneration has severely limited his vision in his right eye.
"I lose the ball in flight probably 25 yards out," Maritano said.
Of course…