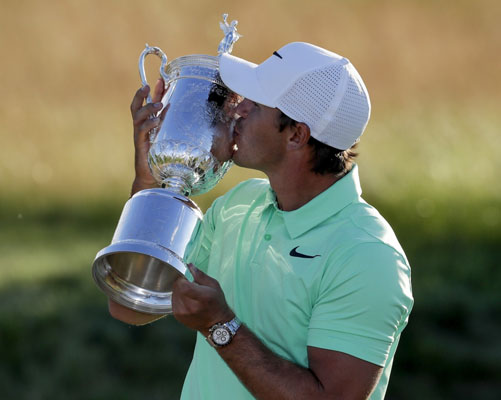 I watched the U.S. Open final round from stem to stern Sunday. While it never turned into a nail-biter, the event did produce a worthy winner–albeit not one of the biggest names in the field.
Random thoughts to muse over…
Fox Sports coverage was markedly better than their first two attempts. The generous use of the Pro Tracer technology was extremely helpful and gave viewers a greater appreciation of the talented pros' ball flights. They (and the U.S.G.A) did screw up their awards ceremony (again) as it felt rushed and anti-climatic.
It was like visiting a haunted house during the day with all the lights on. Not nearly as scary as feared–thus, a letdown for fans of mayhem.
The USGA still doesn't do good trophy ceremony. After last year's struggles, a new strategy was employed at Erin Hills to hand the trophy to the champion. USGA president Diana Murphy nailed all of her lines but Curtis Strange kept checking his notes in an awkward interview with Koepka. It was all set to a smattering of bored spectators in the background lining the practice putting green. No low amateur. No volunteers getting some TV time in the background. No good.
I'm giving lead Fox announcer Joe Buck a pass when he mentioned Koepka's ex-girlfriend's name when pointing out his new squeeze. My daughter Googled Koepka's name and Wikipedia hadn't updated their site either.
Fox's golf coverage, in a nutshell pic.twitter.com/EaBRN1v0ZK

— Deadspin (@Deadspin) June 19, 2017
Jena Sims is an actress and former Miss Teen Georgia USA 2007 whose Wikipedia page was updated Sunday evening to also describe her as Koepka's "new" girlfriend.
—My guess is the TV ratings will not be stellar with no marquee names at the top (save for Rickie Fowler for a bit). You need names that are familiar to the casual fan to boost the number.
–Rickie Fowler's game plan on Sunday was curiously tame. Almost like playing not to lose which isn't his normal strategy. It cost him big time.
—A record 32 players finished under-par. It was more a reflection of the benign conditions (rain and calm breezes).
—Fourteen amateurs made the cut. UT's Scottie Scheffler took low amateur honors, beating A&M player Cameron Champ by a stroke. Champ led the field in driving distance at 334.4 yards–some 32 yards longer than the field average.
—Be prepared for the USGA to knee jerk and set up next year's Shinnecock Hills as a torture chamber. When Johnny Miller scorched Oakmont CC with his legendary final round 63, officials strangled the field the following year when Hale Irwin's winning score was +7.