What Has Happened To Rory McIlroy's Performance In Final Pairings?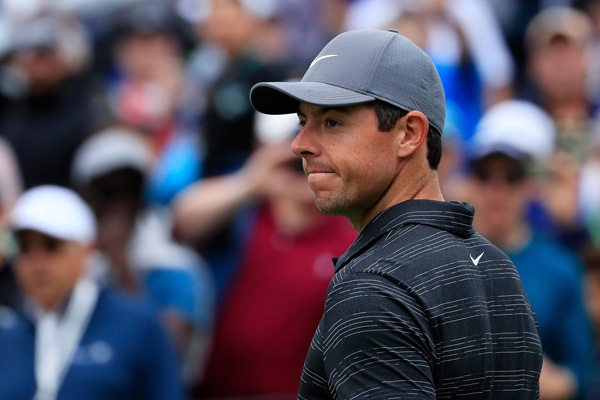 Rory McIlroy, when on, is one of golf's absolute superstar studs. He launches it a bloody mile and can go low at any moment. Yet, Rory might also be considered a bit of an under achiever given his other worldly talents–that is if winning four majors before turning 30 should ever feel underwhelming.
He admitted recently that his performances when playing in a Sunday final pairing is less than desired. And he's not sure why as John Feinstein reports.
McIlroy said, "I've really played well all year if you think about it. I've had so many chances to win—should have won a lot more. My problem's been playing in the last group. I've just not played well in those situations. If I ever get that figured out, I could be dangerous."
He's still trying to figure it out. On Monday at Aronimink, the final group blues struck McIlroy again. This time it was in a threesome brought about because of the weather that wiped out Sunday's play and forced the PGA Tour to send the players out early Monday in the hope that they could get the round in before the rains came again.
McIlroy, trailing Justin Rose by a stroke, was paired with Rose and Xander Schauffele. Rose shot 67 and lost in a playoff with Keegan Bradley—who shot 64. Schauffele also shot 67 to tie for third with Billy Horschel—who, like Bradley, shot 64 on the final day.
After rounds of 62-69-63, McIlroy shot a respectable two-under-par 68, which was absolutely the highest score he could possibly have shot given the way he hit the ball. The Northern Irishman simply couldn't make a putt. Only two players who finished in the top 11—Tommy Fleetwood and Rickie Fowler (who has had his own share of Sunday struggles this year)—shot a higher score than McIlroy. They both shot 69.
Monday was the fifth time this year McIlroy has played the final round of a tournament in the last group and the fifth time he had gone backwards by the time he holed out on 18. The most notable of those lost Sundays (and one Monday) was at Augusta National in April, where he began the final round of the Masters three shots behind Patrick Reed in second place—and in the final pairing. He picked up a shot on Reed on the first hole when Reed made bogey and McIlroy made par from jail. He could have been tied for the lead after two holes if he'd made a five-foot eagle putt on No. 2. But he missed, and then bogeyed No. 3, allowing Reed to take a deep breath.
"If he makes the putt on two, we're tied and it's a brand new ballgame," Reed said later. "But he missed, and I still had the lead and that gave me a chance to take a deep breath." McIlroy ended up shooting 74 that day—the highest score by three shots among those who finished in the top 16. 
McIroy's only win of the year came at the Arnold Palmer Invitational, where he shot a sterling eight-under-par 64 on the last day at Bay Hill to win by three shots. Coincidence or not, McIlroy was in the second-to-last pairing that day.
"I'm not sure what the problem is," McIlroy said Wednesday, almost calling his shot as it turned out. "I don't feel nervous. It isn't as if I haven't won out of the last group in the past. It isn't as if I haven't been under pressure in the past. It just seems it's one thing or another.
"On the one hand I finished second when I didn't feel as if I had my best stuff," he said. "So that was good. But when I looked back I realized that if I had played well—not even out of my mind, but well—I could have, almost should have, won. That made it very disappointing."