When Amateur Patton Nearly Won The Masters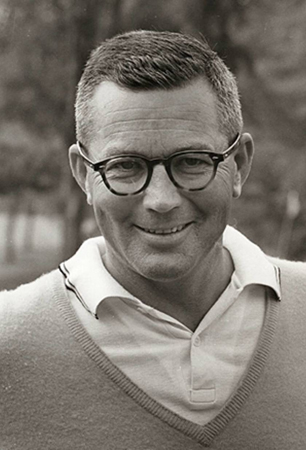 Do you remember the tale of Billy Joe Patton?
Amateurs have always played in the Masters be it via U.S. Amateurs or U.S. Public Links or world wide amateur contests. Some have hung in there to finish high; top-2 (Ken Venturi, Charlie Coe), T7 (Jack Nicklaus) and T13 (Ryan Moore).
But one of the most surprising was lumber salesman Billy Joe Patton finish in 1954. He held the lead heading into the back-nine on Sunday before fading to third. It's a fascinating read via Morning Read's John Fischer.
To expand the number of amateurs in the 1954 field, tournament director Clifford Roberts suggested to Jones that alternates for the Walker Cup team also be invited, and Jones liked the idea.
Patton wasn't well known outside of North Carolina, although he had won the Carolinas Amateur and two Carolinas Opens, all solid events, and starred a decade earlier in college at Wake Forest. Patton was long off the tee and an excellent putter, a good combination for Augusta National Golf Club.
Back then, there was no Par-3 tournament. Instead, a long drive contest was held.
Patton possessed a lightning-fast swing and an odd tilt to his follow-through, but he could blast the ball. He hit his first ball in the driving contest 338 yards. He took only one swing and won with a 338-yard blast. 
After acing the par-3 sixth on Sunday, he was 3 strokes behind Ben Hogan.
Patton parred Nos. 10 and 11. Standing on the 12th tee, he was tied with Hogan, who was out in 37, for the lead.
At that point the back-nine fought back…
"I don't feel bad about that 6 at 15, and I don't feel bad about that 7 at 13, and I don't want my rooters to feel bad about that," he said. "I told myself I wasn't going around after the tournament thinking I could have saved a stroke if I hadn't played it bold. So, I played it bold, and the way I made those birdies was the same way I got that 6 and that 7."
The 1954 Masters would be the first of 13 appearances for Patton at Augusta National. Though he would finish eighth in 1958 and 1959, he never got to switch that white sports coat for the green jacket of a Masters champion. He did, however, take low-amateur honors two more times, in 1958 and 1960.