Whose Career Would Have Benefited The Most If Tiger Woods Didn't Exist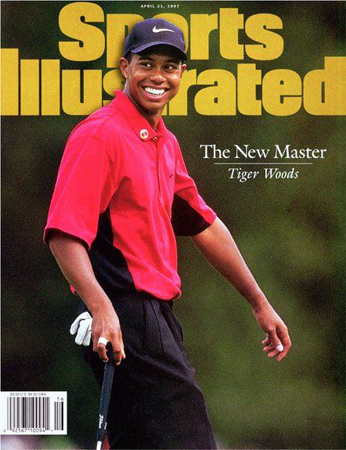 Tiger Woods probably contributed more to the popularity of golf than anyone since prime-time Arnold Palmer. He also dominated the sport like no one since Byron Nelson. It's an ongoing debate on which Tour player's career would've had the biggest bump if Woods was never born.
If nothing else, it's a good "what if" hypothetical.
The Golf Digest staff make their cases on who would've benefitted the most.
Myers: Having just written about the 2005 Masters for part of our Masters Rewatch series, my initial reaction is to say Chris DiMarco. The plucky player may have won just three career PGA Tour titles, but he was out-dueled by Tiger in two majors, including that one. Giving him credit for those two suddenly vaults him from borderline journeyman to borderline Hall-of-Famer. Poor Chris DiMarco.
Beall: "Poor Chris DiMarco" is a great name for a fantasy team. He was four shots away from winning three majors in an eight-tournament span. Instead he's relegated to occasional "Morning Drive" appearances. Anytime I delve in his career, which is about six times a year, I come away thinking "Is Rickie Fowler this generation's Chris DiMarco, with better marketing?"
Myers: That said, I'm going in a different direction with an actual Hall-of-Famer.
While Phil Mickelson is considered Tiger's closest rival for good reason, I think Ernie Els actually would have benefitted more from Woods' absence. When Woods arrived on the scene, the South African already had won a U.S. Open and he'd add another at the major directly following Tiger's landmark 12-shot 1997 Masters victory. That moved Els briefly to World No. 1. More importantly—at least, for the purposes of this argument—Els was a clear No. 2 during Tiger's epic 2000 season, which started with Woods beating him in that memorable playoff at Kapalua. Then Els finished runner-up to Vijay Singh at the Masters (not Tiger's fault) and runner-up to Woods at both the U.S. Open and British Open (totally Tiger's fault).
Yes, Els was a distant second in those two Opens, but again, we're talking about a golf world in which Woods doesn't exist. And in that world, Els and Vijay Singh share the lead when it comes to runner-up finishes at the hands of Woods with five apiece.
Rapaport: So the answer is Phil, and I really don't think it's much of a debate. It's hard to take issue with a career that yielded 44 wins, five majors and more than $91 million in earnings. But Phil will always, always be remembered as second-fiddle to Tiger. It remains one of the more unbelievable stats in golf that Lefty never reached World No. 1. Not even for one week. It wasn't always Tiger who kept him from the top spot, but it was usually Tiger. Tom Lehman got to No. 1. So did Luke Donald, and Martin Kaymer, and Adam Scott. But Phil, who spent more than 700 weeks in the top 10? Never.
Without Tiger, Phil is the greatest player of his generation. And knowing that brings an internal sense of superiority that Phil never had. Without Tiger, he's the top dog, and you have to think that would have spurred him on to even greater greatness. He probably wins at least two more majors, spends years as World No. 1 and wins, say, 12 more Tour events. That would put him at 56 wins and seven majors, and all the sudden he's a top-five player ever.
Others include Sergio Garcia and an interesting take on top amateur Trip Kuehne.