Why A Noted Golf Teacher Says Matt Wallace Is An 'Idiot' And Should Be Banned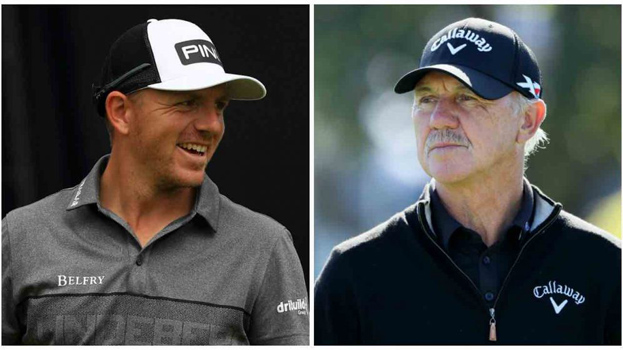 Matt Wallace is under fire for berating his caddie at the recent BMW International Open.
I watched him play the 18th and this is the only dialogue with the caddie on my DVR pic.twitter.com/tbPXZReTmS

— Matt Sylla (@mattsylla) June 24, 2019
It's never a good look when a boss publicly hammers an employee.
Anyway, noted golf teacher Pete Cowan (Instructor for Brooks Koepka and Gary Woodland) had some blunt thoughts on Wallace's behavior.
"He is a complete idiot and the European Tour has to do something about it…It's a form of cheating because you're putting your opponent off. The best thing would have been if his caddie had dropped his bag — I'd have chucked it in the bloody lake — but that wouldn't do Dave McNeilly any good."
Wallace's agent Chubby Chandler responds…
Chandler contends, "Matt and Dave have a terrific relationship and are very close," and says, "Matt admits that sometimes his eagerness to succeed has got the better of him and has faced up to it, both with his team and the media."
Chandler also closed with a jab at Cowen:
"He's a good kid who hasn't smashed up markers or abused officials unlike some other players and to say he should be banned is utterly ridiculous. It's funny, I remember a young player who I was on Tour with in the 70s who was renowned for his tantrums and snapping clubs. His name was Pete Cowen."
Cowen also has some intriguing thoughts about putting and eliminating sand bunkers.
I DISLIKE PUTTING. It carries too much weight, scoring-wise. If it were up to me, each putt would count only half a stroke. I give you two golfers. Player A hits a 3-iron over water to a back-right pin. Hits it to 10 feet, then misses the putt. Player B hits a big pull left of the green, pitches it to six feet and holes the putt. Under my system, Player A scores a 2 on the hole, while Player B scores 2½. That's called justice. And it would speed up the game.
If I were designing a golf course I would make it shorter and more interesting by doing away with bunkers as pros no longer find them a hazard. They've become far too good at playing out of them. The sand is pristine and they are raked every time after a ball enters the bunker so I would make them all grass bunkers. I would grow different lengths of grass in each bunker to make them more difficult but at least the amateurs, and especially the ladies, wouldn't fear going for the greens and it would speed up play.