Why Ed Fiori Is Still Called The 'Tiger Killer'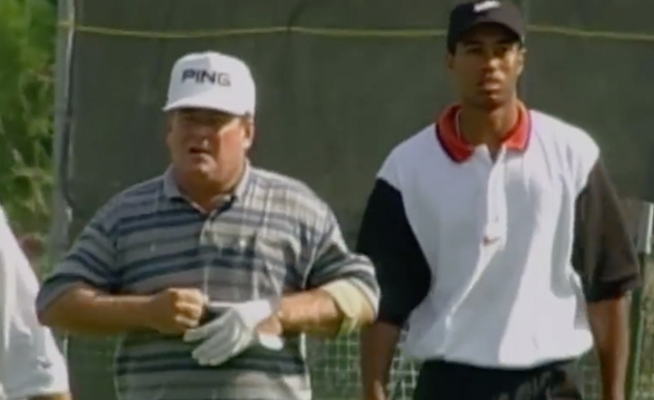 Ed Fiori was a good but unspectacular Tour player. Won 4 PGA Tour events in nearly 20 years, making 349 cuts in 583 events. Career earnings of $2,270,000 (trust me, his pension is fine given all those cuts made). Yet, his name is forever linked with possibly the best golfer ever. Yep, Tiger Woods.
In 1996, Fiori was paired in the last group on Sunday with Woods at the John Deere Classic with Tiger owning a 1-shot lead. In maybe one of the sport's biggest upsets, Fiori (nicknamed The Grip for his excessively strong grip on the club) battled and eventually took Woods down. It was the first time Woods hadn't won when entering the final round with a lead.
Golf.com's Michael Arkush delivers Ed's recollection of the epic day.
For me, when paired with Tiger, that meant, and I'm sorry to use the cliché, playing my own game. During those two rounds, I made sure not to watch Tiger hit a single tee shot. I was afraid studying his rhythm would disrupt my own. I looked at the cameramen, the fans, the pretty girls. I looked at anything but Tiger Woods.
Of course, by the reactions of the gallery, I knew he had hit his drives a long way – on average, about 80 yards past me. Good thing my pride could take it.
Everything changed on No. 4. Tiger hooked his drive into the pond. I lost track of him for a bit, so it wasn't until I was standing on the next tee, and saw the standard bearer put in a new number, that I realized what had happened. Tiger had made a quad. A quad! Suddenly, I was one shot ahead.
If you think that's hard to believe, check out what Tiger did on No. 7. He four-putted for a double bogey with one power lip after another. That, I did happen to watch. There's no other way to put it: The kid self-imploded.
"Bullet, let's see if we can get this one in to the house," I said. Which I did, winning by two shots over Andrew Magee; Tiger wound up four back. People were surprised, no one more than yours truly.
Tiger and I shook hands afterward. "You're going pretty good," I told him. "Where you playing next?"
And off he went to the next event – and his remarkable career. I am closer to the Jack Nicklaus era but I have no doubt saying that Tiger is, by far, the greatest player ever.