Why Jordan Spieth Changed His Golf Grip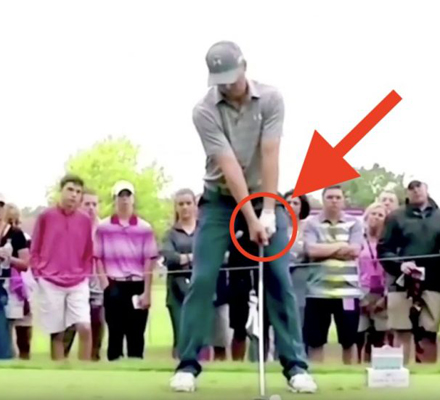 Jordan Spieth's latest tweak to resurrect his once-dominating game is his golf grip. As most golfers know, altering your grip is one of the toughest changes to make. It takes a while for the new adjustment to feel comfortable–sometimes a long while. Yet Spieth has seen some encouraging improvements lately since holding the club differently. Golf.com's Luke Kerr-Dineen explains why.
Back at the Waste Management Open, Golf Digest's Brian Wacker reported that on the eve of the tournament, Spieth and his longtime coach, Cameron McCormick, strengthened his golf grip (for those who may not be familiar, that means rotating his hands more to the right at setup), about "five degrees":
"That's something that takes two, three months to nail down…I miss a lot of left shots given the grip. My hands are pretty good and I'll be able to figure it out in a couple of weeks, but I did it with the idea that we have a couple of months before the first major."
Also notice how the "V" formed between his thumb and index finger on his trail hand is pointing more up his trail arm. In the right picture, taken from his 2018-19 season, that same "V" is pointing more towards the side of his chest. It seems his right hand has also rotated more towards the target into a weaker position in recent years.
That, in a nutshell, and in Jordan's own words, is one of the tweaks Jordan has made to his game recently. He said it'll take a few weeks to bed-in (something golfers at any level who have made a grip change can attest to), but in week two of his newly strengthened grip he's already hit a significant breakthrough: Spieth finished first in SG: Approach and first in SG: Tee-to-Green at the AT&T Pebble Beach Pro-Am. It was the first time since the 2018 Houston Open that he managed that feat.
It does take some incredible faith not to go to the old grip in pressure situations. Kudos to Jordan for sticking with it.
So far…