Will Tour Players Deal With Unraked Bunkers?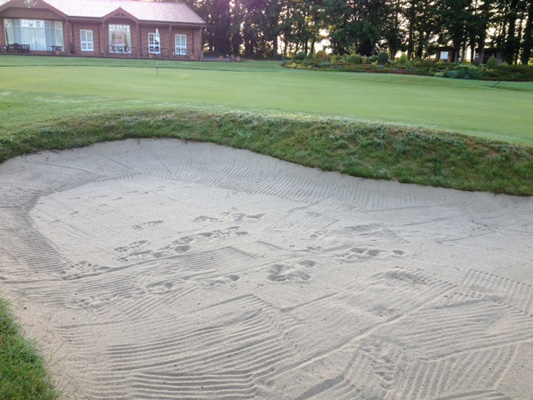 Unraked bunkers are a sore spot for golfers. Even though it's supposed to be a "hazard," players get mighty steamed when their shot lands in a footprint, uneven mounds or sandwiched inside a mini crater.
This week's Maridoe Samaritan Fund Invitational is set to run Tuesday-Thursday at Maridoe Golf Club in Carrollton, Texas. Included are Tour players Viktor Hovland, Harry Higgs, John Senden, Scottie Scheffler and Paul Stankowski. Oh, and so is Tony Romo. The event will also test new social distancing rules for golf including no caddies, carts or raked bunkers to see the limits on what pros will endure.
Three-time Tour winner Scott Stallings said not all players would get on board with the changes. "I just don't think there's any way guys are going to do that. Guys are not going to play for their livelihood with no rakes in the bunker and no caddies."
"I'm fully confident that there are going to be guys who choose not to play."
Golf.com's golf crew debates whether unkept traps is a no-go proposition and if the players will push back.
Sens: Playing for "their livelihood with no rakes in the bunker and no caddies." Egad. The horrors! Not even Dickens could have dreamed up such hardship. I'm sure Stallings is right. Some players will push back, and they'll look as ridiculous as the above sounds.
Shipnuck: The bunker thing is getting a lot of play, but there could be an easy solution: Why not have one designated raker per hole who cleans up after every player? But the larger point is that sports is going to be different for all of us when it returns, and the players would be wise to get on board.
Bamberger: I think the game would be improved at every level without rakes in bunkers. Return to them their dignity. They are traps. They are to be avoided. The players will have to conform, or there won't be a tournament in which to play.
Personally, I'd like to see them give it a try. Traditions are great, but so is new thinking, so why not golf under unfamiliar conditions to see how much it truly affects play?
Live scoring can be viewed here. The scoring is surprisingly good given the distance (7,900 tees) and wind gusts of 18-29mph!
They must have it setup pretty easy..no way at 7900 with the wind today anyone busts old man par

— edward loar (@BigEinBigD) April 28, 2020
Yeah no chance. 75 is great out there tipped out today

— John Peterson (@JohnPetersonFW) April 28, 2020