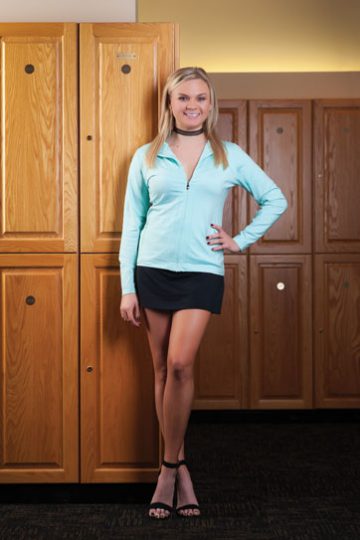 Jen Bryant

Prestonwood Country Club – Hills Course
Hometown: Williamsburg, VA
How long have you been a cart girl? About five months
In 10 years you would like to be: Married, have at least three boys, successful, going to a country club instead of working at one 😉
The most interesting fact about yourself: I'm a die-hard Philadelphia Eagles fan! Go birds!
Favorite foods: Margaritas, chips & queso, pizza, Tito's on the rocks
If you had more time, you would: Take more SoulCycle classes and sleep
The next risk you want to take is: Free diving with sharks in Hawaii
Favorite music: Country, The Chainsmokers, anything on the radio
Turn-ons: Guys taller than me, southern charm, free drinks, black AmExes
Turn-offs: Guys who can't drink bourbon, men who play games, weird Snapchats, dishonesty
Fantasy person to date: Ryan Reynolds or Bradley Cooper
What man's age is too old to date? Age is just a number!
The best way to impress you is: Being a southern gentleman, loyalty, big gestures (fly me to Vegas!)
Interests: The gym/cycling classes; I'm a huge NFL junkie; going out in Dallas
Biggest tip: $100
College: Radford University
Worst pick-up line: "You must have all the guys wrapped around your finger with that…"