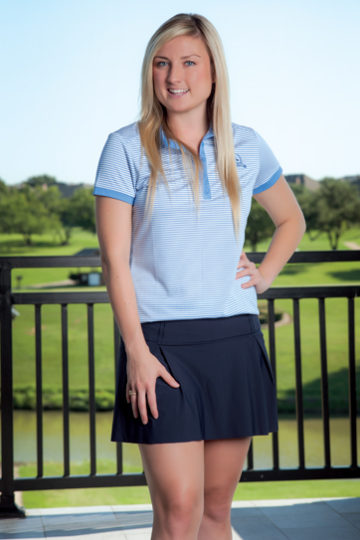 Taylor Miller

Hackberry Creek Country Club
Hometown: Flower Mound, Texas
How long have you been a cart girl? 4 months
In 10 years you would like to be: Married with kids
The most interesting fact about you: I can beat my boyfriend in golf.
Favorite foods: Chips and any type of dip
If you had more time you would: TRAVEL
The next risk you want to take is: Skydiving
Favorite music: Country, the cheesy lovey-dovey stuff
Turn-ons: Someone that is polite to people at any time, loves their family and has an outgoing personality
Turn-offs: Having a bad attitude toward things
Fantasy person to date: Matthew McConaughey
What man's age is too old to date? If he is older than my dad…no way.
Best way to impress you: Make me laugh
Interests: Exercise, soccer, fashion, big foodie
Biggest tip: $500
College: Texas A&M
Worst pick-up line: "Are you sunburnt? Or are you always this hot?"