2018 Range Rover Velar R-Dynamic SE — Luxury for the Urban Warrior

The oft-admired Range Rover line under the Land Rover umbrella continues to pump out excellent rides onto its popular roster. Add in the welcome reassurance of its iconic four-wheel capability overcoming various climatic and terrain challenges makes the Range Rover line a superb choice for the sedate urbanite and off-road adventurer.
A terrific new option is the much-anticipated 2018 Range Rover Velar (the name is a tribute to the Latin velaris which means to veil or cover) as the production name for secret Range Rover prototypes built in 1969.
The Velar borrows many appointments from its popular Jaguar F-Pace sibling. Placed between the smaller Range Rover Evoque and larger full-size Range Rover Sport, the model strikes a Goldilocks "just right" footprint melding design notes from the sibs while ramping up the tech with enough room to comfortably schlep families and its expanding cargo.
The Range Rover Velar hits the bull's eye and is sure to be a popular choice in the crowded SUV/Crossover market—especially with the glamorous eye candy, creature comforts and superb whiz-bang technology.
SKIN
My ever-curious neighbors immediately noticed the Range Rover Velar adorned in beautiful Yulong White paint in the driveway. While there's no mistaking its heritage, the Velar casts a more modern, aerodynamic silhouette with just enough glossy black trim and lovely copper accents providing the perfect contrast. You'll notice a longer and taller silhouette than its low-slung Range Rover Evoque sibling while still displaying a nicely compact aerodynamic figure. Exceptionally bright LED headlights (with superlative Auto High Beams) surround the new mesh grille. Land Rover says the light motif is meant to recreate the feel of a compass with breaks in the LED to represent the four main directions. The sweeping rear lights are similar in nature.
A beautiful gloss black roof contrasts wonderfully against Yulong white paint. It really is an eye-catching vehicle with tasteful hood and side vents. The flush deployable door handles are attention grabbers—although you and everyone else will know if the car is unlocked. Normally I'm not a fan of darkened rims, but these optional 21-inch Satin Dark Gray wheels are striking. There are contrasting skid plates in the front and rear with dual chrome exhausts integrated into the caboose. The combination is really the perfect accessory to the overall stupendous appearance.
PERFORMANCE
The test model is the sporty Range Rover Velar R-Dynamic SE (slotted in between the standard Velar and First Edition models) with a robust supercharged V6 pounding out 380 horses and 332 lb.-ft. torque delivering a darn fast 0-60 time of 5.3 seconds. An eight-speed transmission with responsive Satin Chrome paddle shifters move through the gears seamlessly. Gas mileage is a decent 18/24mpg. I squeezed 21 overall and 25 on the highway—mostly in Sport mode. Not bad for an off-road warrior.
As with the entire Range Rover four-wheel drive line, this sublime cargo carrier is about confidently navigating to your destination no matter the obstacle. With an abundance of custom terrain settings in the Haldex All-Wheel Drive, the Velar puts any nervous driver at ease. In fact, it will navigate through a water height of two feet. That is some serious water wings. Heck, it'll safely maneuver over 45 degrees uphill. It's a worthy pet trick at your next soccer game.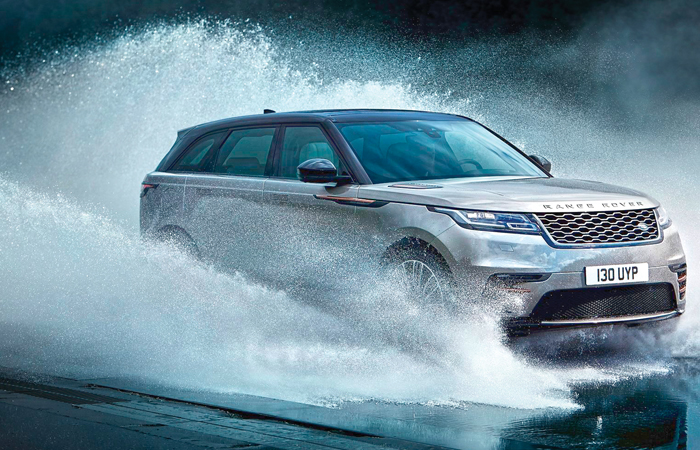 The Velar offers ABS brakes, Hill Descent Control (HDC), Roll Stability Control (RSC), Electronic Brakeforce Distribution (EBD), Emergency Brake Assist (EBA), Trailer Stability Assist (TSA), Hill Start Assist (HSA) and All-Terrain Dynamic Stability Control (DSC) when facing grass/gravel/snow, mud/ruts and sand. That's a slew of acronyms but suffice to say all are worthy when called upon.
Yet, for such an off-road beast, it's surprisingly calm on asphalt, cruising extremely well. There's Normal, Sport and Manual shift modes upon request. The able suspension allows you to carve the turns, feeling extremely planted.
CABIN
Even with all those driving attributes, the 2018 Ranger Rover Velar amps up the wow in the cocoon. Luxurious appointments abound with impeccable excellent fit and contrast stitching. The tester's optional Ebony grained cross-stitched supportive leather is soft, supple and smells fantastic (the Brits know their leather!). The 20-way power heated/cooled front (back and/or tush) and heated steering wheel (awesome in winter) will warm anyone's frigid frame.
The dash is nicely laid out with updated, clearer displays. New Touch Pro Duo Capactive 10-inch infotainment screens are extremely quick—a great improvement over the previous "laggy" configurations. They are bright and easy to read.
You'll notice tasteful attractive trim throughout. Improved aerodynamics and insulation keep the interior library quiet. A gearshift knob coolly rises to "handshake" you upon ignition. Two-zone climate control along with programmable ambient lighting adds to the luxurious feel with the optional four-zone climate control and cooled glovebox for $870.
The roofline is tall and the expansive panoramic moonroof might be the largest ever. Windowsills are blissfully low enough to comfortably rest your elbows. The lower doorsills are watertight so you won't soil your pant legs when entering.
Head-Up-Display with speed sign recognition is available on the windshield to keep the peepers safely on the road–definitely one of my favorite safety features. Auto-adaptive cruise control is a welcome feature.
Cargo room is surprisingly ample for the compact exterior. There are multiple cup holders and storage bins for every seating position. The rear seats power fold down flat to allow for 61.1 cu-ft of loading just about whatever you'd need. Oh, and you can raise the trunk lid by sweeping your foot underneath either side of the rear bumper.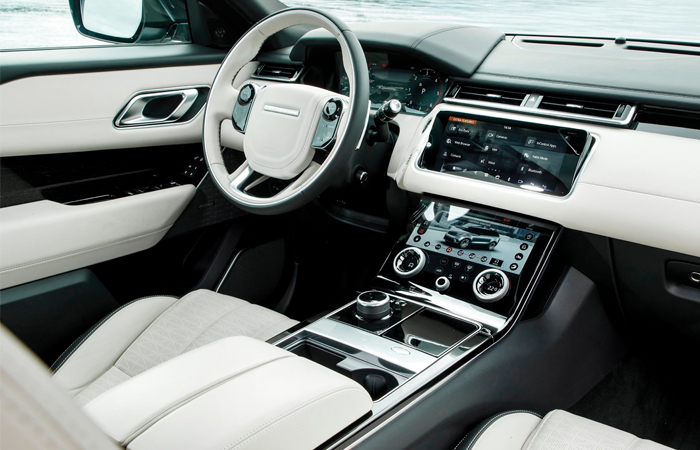 TECH TOYS
The Velar R-Dynamic SE brings new NAV, Rear-View and Surround cameras, satellite radio, Bluetooth phone and mp3 music files and Voice Activation.
The responsive infotainment is now displayed on two new InControl Touch Pro screens, allowing you to pinch/swipe inputs intuitive menus. A faster processor and solid state hard drive delivers near immediate response and the displays are ultra clear.
The tester housed the impeccable Meridian 825W, 16-speaker audio system that you can upgrade to the 1600w, 23-speaker blowtorch for $3,060. Combined with the improved cabin acoustics, the sound is superb and you can preset stations across all formats. Bluetooth transmission is clear.
The 2018 Range Rover Velar is so good that you'll blink twice when noticing the $49,990 base price. Yes, the options can quickly raise the sticker cost, but Range Rover's target audience tends to value extravagance, technology and secure four-wheel drive. Thus, the Velar is certain to be another home run for manufacturer Tata Motors. You'd be wise to try one on for yourself.
Test-drive the 2018 Range Rover Velar R-Dynamic SE at Park Place Jaguar Land Rover DFW in Grapevine.
SCORECARD
Golf bags: At least four
Curbside appeal: Gorgeous mix of off-road warrior and urbanite pizazz
0-60: 5.3 seconds
Gas mileage: 18/24. Observed 21.0 in spirited driving
Must-haves: 12.3-inch Interactive Driver Display, Vision Assist, Climate Comfort packages
Warranty: 4-year/50,000 miles
Base price: $49,990
Price as tested: $82,316
Who buys it? Families desiring upscale refinement, modern tech and performance
Finish line: Another winning model for the Range Rover line